A Balmain x Victoria's Secret Collaboration Is In The Works, Just In Time For The VS Fashion Show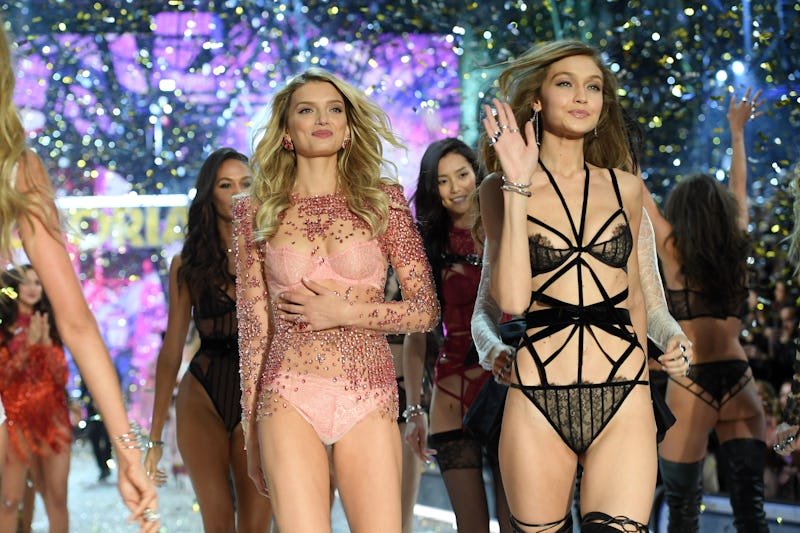 Dimitrios Kambouris/Getty Images Entertainment/Getty Images
Get ready, world. Two of fashion's most buzzed about brands are collaborating on a collection — and you can bet that you'll be seeing it all over your Instagram feed. Balmain and Victoria's Secret are teaming up to create looks for the 2017 Victoria's Secret Fashion Show, as well as a capsule collection that will be available in Victoria's Secret stores and online on Nov. 29, the day after the notorious fashion show, which airs on Nov. 28.
This isn't the first time Victoria's Secret has partnered with a designer on looks for its fashion show, but it is the first time one of these designers has made an exclusive collection for the brand. Honestly, it was only a matter of time before these two powerhouses collaborated. The Balmain x Victoria's Secret collab just makes sense, considering they share all of the same models for their runway shows and campaigns.
Perhaps a Victoria's Secret Angel who is a part of the #BalmainArmy, connected Olivier Rousteing, the creative director of Balmain, with Ed Razek, the chief marketing officer of Victoria's Secrets' parent company Limited Brands, and the two of them just hit it off? Maybe it was Gigi Hadid? Anyway, Balmain clearly sees the value in partnering with more accessible brands. After all, people went nuts for the Balmain x H&M collection, which sold out within hours of its launch.
Victoria's Secret and Balmain have plenty of things in common beyond their proclivity for Instagram and same taste in models. Both brands are known for being sexy — Victoria's Secret obviously focuses on lingerie, which is inherently sexy, while Balmain focuses on body con silhouettes, waist-defining corset belts, and short hemlines. It's very easy to picture a collaboration between the two. The following Balmain pieces could easily be inspiration for lingerie, or frankly, transformed into lingerie with a few simple tweaks.
This Lacey Ensemble From Balmain's Fall 2016 Collection
Doesn't get more lingerie-like than this all lace outfit as seen on Alessandra Ambrosio in Balmain's Fall 2016 collection. It seems very likely that Rousteing will create a similar ensemble for the Victoria's Secret Fashion Show.
This Corseted Look Worn By Gigi Hadid
Corsets are generally a centerpiece of Balmain's designs, and were especially prevalent in Balmain's Fall 2016 collection, which was walked by almost exclusively Victoria's Secret Angels — talk about synergy.
This Fishnet Dress & High Waisted Briefs
Kate Grigorieva is basically modeling underwear here, but with a sheer fishnet dress tossed over it. Rousteing is already designing ready-to-wear undergarments, so lingerie for Victoria's Secret should be no problem at all.
This VS Runway Ready Look Worn By Romee Strijd
Romee Strijd rocked this look on the Balmain runway, and you can practically see the wings that would go with this ensemble on the Victoria's Secret runway. Plus Rousteing always highlights the waist, just like Victoria's Secret.
This Corseted Look From Balmain's Fall 2016 Show
If this corseted look from Balmain's Fall 2016 collection showed a little more skin, it would be Victoria's Secret runway-ready. It's clear Rousteing has the framework for lingerie down pat.
This Shorts & Corset Look From Balmain Spring 2015
It seems as though the Balmain x Victoria's Secret collab will be filled with corsets, lace bodysuits, fishnets, and short shorts. Sounds like the perfect lingerie collaboration to me.
This Skintight Tunic With A Wide Belt
What do you think the odds are that the Balmain x Victoria's Secret collab would include a few beaded bodycon dresses, like these from the Balmain x H&M collab? Balmain lingerie will be great, but let's face it, we all not-so-secretly want something from the collab that we can actually wear in public.