Attention, '90s Kids: An Inclusive 'Buffy The Vampire Slayer' Reboot Is Reportedly Happening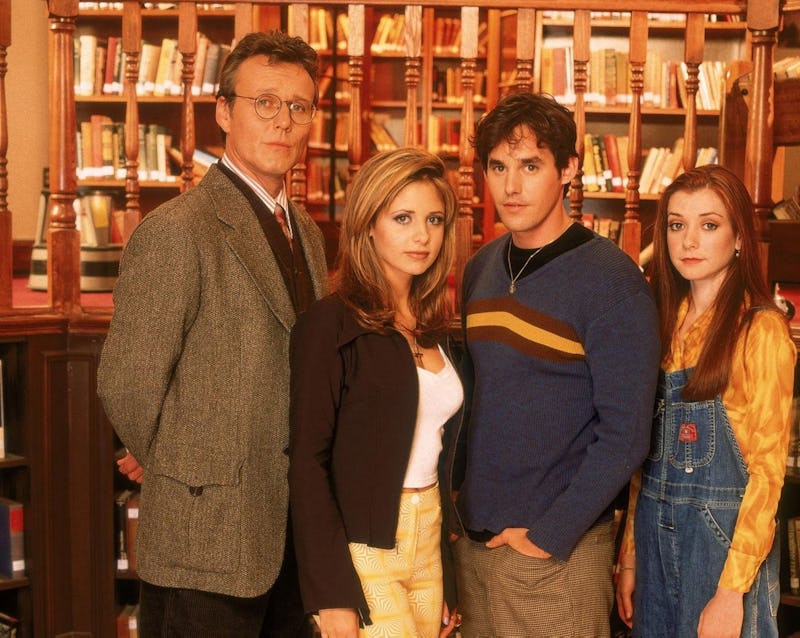 20th Century Fox
Are you ready to head back to Sunnydale? On Friday, July 20, multiple media outlets (Deadline, Variety, The Hollywood Reporter) are reporting that a Buffy The Vampire Slayer inclusive reboot is currently in the works with a black lead actor, produced by 20th Century Fox's Fox 21 TV Studios. 20th Century Fox confirmed the reports to Bustle.
According to Deadline, the intention for the series is to have the lead actor playing Buffy to be African American; the news outlet also mentioned that these are early details and there is not script for the pilot yet. Deadline reported that Midnight, Texas executive producer Monica Owusu-Breen will reportedly write the pilot script, as well as executive produce and serve as showrunner for the series. The Hollywood Reporter reported that Joss Whedon, who created the original Buffy TV series and movie, will reportedly executive produce the reboot series. (Bustle reached out to reps for Owusu-Breen and Whedon for comment, but did not immediately hear back.)
Whedon wrote the original 1992 Buffy the Vampire Slayer movie starring Kristy Swanson and Luke Perry and helmed the hit TV series, which ran from 1996-2003 on The WB and UPN networks. The cult favorite show starred Sarah Michelle Gellar as the title character, as well as David Boreanaz and Alyson Hannigan.
The Hollywood Reporter noted that the Buffy reboot reportedly doesn't currently have a network yet and will reportedly be pitched to several streaming services and cable networks.
In a 2017 interview with THR in March 2017, Whedon said he was open to the idea of a Buffy reboot, but was hesitant to make it happen. "I see a little bit of what I call monkey's paw in these reboots," he said.
Whedon continued:
"You bring something back, and even if it's exactly as good as it was, the experience can't be. You've already experienced it, and part of what was great was going through it for the first time. You have to meet expectations and adjust it for the climate, which is not easily. Luckily most of my actors still look wonderful, but I'm not worried about them being creaky. I'm more worried about me being creaky as a storyteller. You don't want that feeling that you should have left before the encore."
A year later in March 2018, Fox Television Group chairman & CEO Gary Newman said at the INTV conference in Israel he felt that a Buffy reboot was definitely possible, according to The Hollywood Reporter. "Buffy is probably our most ripe show for a remake, it's something we talk about frequently," Newman said, according to the publication. "Joss Whedon is one of the greatest creatives we've ever worked with," Newman said. "When Joss decides its time, we'll do it, until Joss does, we won't."
The main reason for the reboot? Newman pointed out at the conference that Buffy's fan base remains devoted to the series — and that's a big actor for him in deciding to reboot a show. "If there isn't a passionate fan base, a sense of nostalgia, I don't really see the need to bring back the show," he said, according to THR.
And now, it looks like Buffy is about to save the world...a lot once again in 2018.