This Canadian Girl Scout Brilliantly Sold Cookies Outside A Pot Dispensary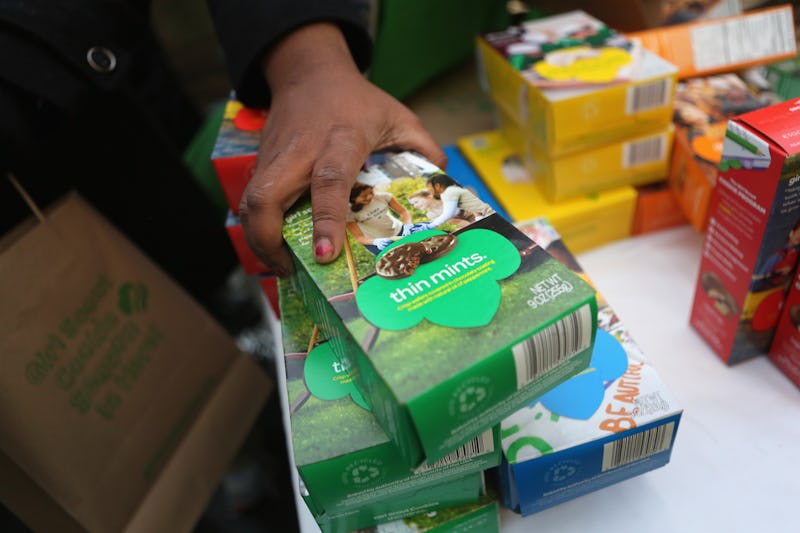 John Moore/Getty Images News/Getty Images
A Canadian Girl Scout might just be the country's most promising young (or, as many are saying, budding) entrepreneur. Nine-year-old Elina Childs stood outside of a marijuana dispensary in Canada on legalization day to sell Girl Scout cookies — and, boy, did it pay off. The wait to enter some Canadian dispensaries was as long as four hours, CNN reported, but Childs wasn't intimidated, and she quickly sold all of her cookies.
Elina's father, Seann, said they stood outside of an Edmonton dispensary on Wednesday and Elina sold all 30 boxes of her cookies at $5 each in about 45 minutes, according to Canadian news outlet CTV News. He said they usually go to people's houses in the neighborhood, but that it's usually a little slow. Then, "while driving, we saw how long the lines were at the dispensary, and we just stopped to sell the cookies there," he told CNN.
"She did a fantastic job and was very polite and everyone was very polite with her," Seann told CTV. He said the sales also allowed him to talk to Elina about marijuana legalization. "We talked about ... what it was and what it means for people who want to use it and people who don't want to use it," he told CTV. He told HuffPost:
Obviously she's not going to be using it before she's 18, I hope, but we like to have frank discussions with her, so she understands what it is and take away that mystery behind it — just to show her people of all ages and all walks of life are doing this and it's legal in Canada now, just demystify it for her so it's not a big deal for her.
Seann said Elina has cystic fibrosis, and that smoking usually isn't good for her, but that selling her cookies at the dispensary was the "one day she could benefit from smoking," according to CTV.
But, Seann told CNN Elina didn't understand "what the big deal was" when she started selling her cookies. "She was just selling cookies in her mind, but everyone was so happy to see her, and kept congratulating her," he told CNN.
Canada legalized recreational marijuana on Wednesday, making it legal for anyone in the country to "use, possess, and grow" recreational marijuana, according to CNN. The minimum age for marijuana use in Quebec and Alberta is 18 years old, and in the rest of the country it's 19. Visitors can purchase weed in Canada, but they cannot leave the country with it. CNN reported that it's still illegal to cross international borders with marijuana, and it's also still illegal to possess it in most states.
Canadian Prime Minister Justin Trudeau legalized pot to deter underage users from trying to get it and to also cut down on pot-related crimes, CNN reported. And, there's the serious payout — the marijuana industry in Canada alone is expected to be worth $4 billion.
Clearly, Canada's economy and recreational marijuana users aren't the only ones benefiting. Smart Scouts like Elina are also raking in extra dough (get it?) thanks to legalization.