A Man Crashed A Car Near Parliament In London & It's Being Treated As A Terror Incident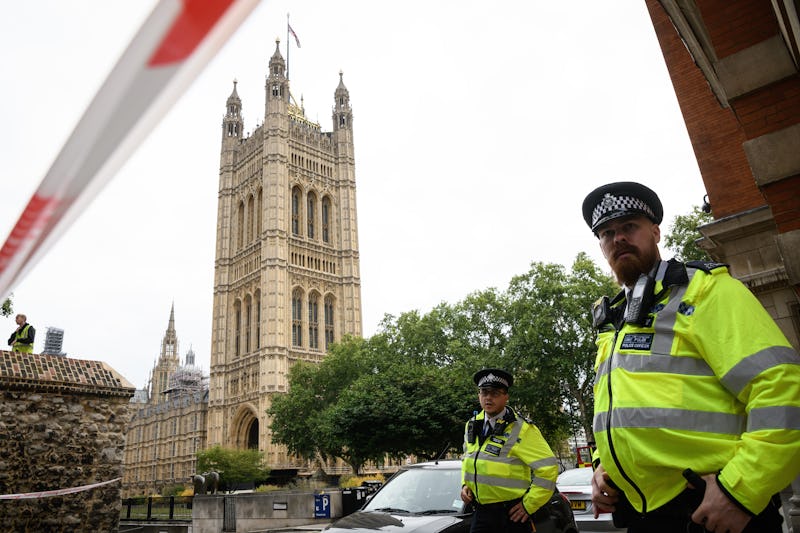 Leon Neal/Getty Images News/Getty Images
The United Kingdom is on high alert on Tuesday, after a car crashed outside London's Houses of Parliament in an incident that authorities are calling a terrorist attack. The New York Times reported that no motive or affiliation has yet been discerned on the part of the attacker, a man in his late 20s who drove into a barrier and hit several people on a sidewalk.
So far, the BBC reported that three people were injured, none of them fatally. Two of the three were taken to an area hospital; one has since been discharged, while the other is being treated for more serious injuries that doctors do not assess as life-threatening.
According to a statement from the Metropolitan Police, the attacker is in custody, and the Counter Terrorism Command is taking charge of the investigation. Neil Basu, the head of counterterrorism at Scotland Yard, explained why they chose to treat the incident as a potential terrorist attack, referencing the location and the deliberate nature of the crash.
"Given that this appears to be a deliberate act, the method and this being an iconic site, we are treating it as a terrorist incident," he said.
According to Basu, the attacker had not previously turned up on the radar of the UK's domestic intelligence services or the counterterrorism police.
In a video that Sky News posted to Twitter, it's possible to see police rushing over to the crashed car with their guns drawn and then later leading the attacker away in custody. According to the Metropolitan Police's statement, the police did not uncover any weapons or explosives in the car. Basu of Scotland Yard said that they didn't know of any potential further danger to London or anywhere else in the UK, but the Metropolitan Police asked citizens to remain vigilant and warned that the armed police presence in London would be temporarily increased.
British Prime Minister Theresa May responded to the incident on Twitter, saying, "My thoughts are with those injured in the incident in Westminster and my thanks to the emergency services for their immediate and courageous response."
"All Londoners, like me, utterly condemn all acts of terrorism on our city," London Mayor Sadiq Khan wrote in a longer statement posted to Twitter. "The response of Londoners today shows that we will never be cowed, intimidated or divided by any terrorist attack."
President Donald Trump also tweeted about the attack. "Another terrorist attack in London," he wrote on Tuesday morning. "These animals are crazy and must be dealt with through toughness and strength!"
This is reminiscent of another terrorist attack near Westminster in March 2017, where a man deliberately drove a van into a crowd of people, killing four people and injuring dozens more. The next month, then, another man was arrested in the same area carrying knives, on suspicions that he had been planning to carry out another terrorist attack. Finally, June 2017 saw one more terrorist incident in the city, when six people lost their lives and 48 others were injured at London Bridge and Borroughs Market.
Fortunately, no one has died in this attack, but the fact that it took place at such a sensitive location is more than enough to make the authorities treat it very seriously.