Wizarding World's 3-Day Harry Potter Festival Is Going To Be Even More Epic Than You Imagined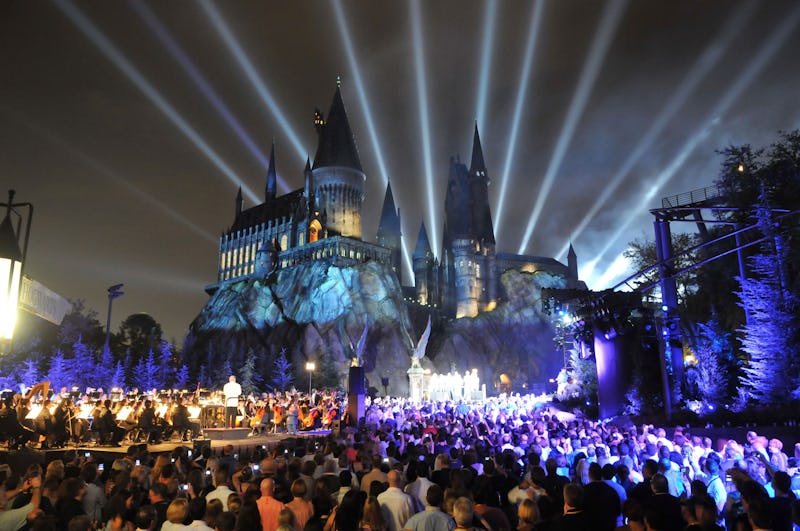 Handout/Getty Images Entertainment/Getty Images
If I looked into the Mirror of Erised, this is probably what I'd see: me, decked out in Ravenclaw robes, hanging out with my friends and chilling with the stars of the Harry Potter movies in Hogsmeade. Next year, that dream can become a reality for me and for you: on Monday, Universal Orlando Resort and Warner Bros. announced that J.K. Rowling's Wizarding World will be hosting "A Celebration of Harry Potter" from Jan. 26 to Jan. 28, 2018. Stars from the movie— including Stanislav Yanevski (aka Viktor Krum) and James and Oliver Phelps (aka Fred and George Weasley) — will also be attendance throughout the weekend, so you actually have the chance to sip on Butterbeer and snack on Cauldron Cakes and treacle tarts among some of the greatest wizards of our age.
Now in its fifth year, The Celebration of Harry Potter is a three-day festival gives guests the opportunity to attend Q&A sessions with talent from the films (names to be announced at a later date), experience and participate in the activities from J.K. Rowling's Wizarding World at the Harry Potter Expo, enjoy special panels and demonstrations that will give fans a behind-the-scenes look at the park, and visit the two parts of the park: The Wizarding World of Harry Potter — Hogsmeade and The Wizarding World of Harry Potter — Diagon Alley. Even better, you can ride the Hogwarts Express to navigate between the two parks — and c'mon, what could be better than that?
As the event has grown in popularity, it has become somewhat of a mecca for new Harry Potter information, so next year, expect for some information on Fantastic Beasts and Where To Find Them to drop. According to Elite Daily, many fans are expecting for the first trailer for Fantastic Beasts 2 to be released at some point during the weekend. The movie, which began filming earlier this year, is set to be released on Nov. 16, 2018.
Start saving your Galleons: this celebration is coming in January of next year, and on-site hotel packages start at $285 per adult per night, including exclusive benefits such as special guest access to the Harry Potter Expo, admission to a private evening reception in The Wizarding World of Harry Potter (almost as good as dinner in the Great Hall!), and special access to panels, demonstrations, and new Workshops — details on that coming soon. Packages are available for sale now, and are available on a first come, first served basis. So grab your Nimbus 300, your Floo powder, and your wand, and get ready for the trip of a lifetime.