A Man Tied To The "Unite The Right" Rally Was Just Kicked Out Of The Marines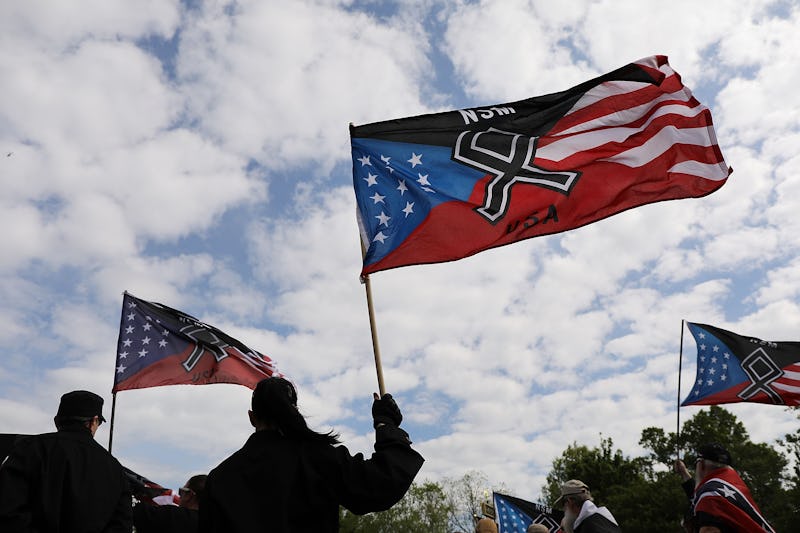 Spencer Platt/Getty Images News/Getty Images
It's a well-known fact that the United States Marine Corps holds its members to an exacting set of physical standard in terms of strength and capability. However, there are other standards that all Marines have to maintain. For example, the Marines dismissed a reported white supremacist, because his membership in a hate group violated the "core values" of the USMC.
According to a report from the The Daily News out of Jacksonville, North Carolina, where the Marines have a major base, Lance Cpl. Vasillios Pistolis was officially booted from the Marines on July 11. This came after ProPublica and Frontline PBS published a joint report in May that offered evidence that Pistolis had been both an active-duty Marine and a member of the extremist group Atomwaffen Division when he took part in the violent white supremacist rally in Charlottesville in 2017.
ProPublica also reported on Atomwaffen Division, describing them as a group that "embraces Third Reich ideology and preaches hatred of minorities, gays and Jews." According to ProPublica, the members of Atomwaffen Division are highly secretive and participate in militaristic trainings to prepare themselves for what they believe is an upcoming race war. The investigative reporting organization, however, was able to obtain thousands of messages from their private communication channels, which helped them to identify Pistolis and gain information about the group's ideology.
Immediately after the report alleging that Pistolis was a member of the hate group, ProPublica and Frontline PBS reported that the Marine Corps had begun investigating him. In June, the same two organizations reported that the Marines had punished Pistolis, and that his expulsion was likely to follow.
According to that report, his punishment in June included a month-long imprisonment, a significant reduction in his rank, and a pay dock. According to The Daily News report, the Marines fired Pistolis a month later. Maj. Brian Block, a Marine Corps Headquarters spokesperson, told The Daily News:
The Marine Corps' stance on membership in extremist or hate groups remains the same: there is no place for racial hatred or extremism in the Marine Corp. Our strength is derived from the individual excellence of every Marine regardless of background. Bigotry and racial extremism run contrary to our core values.
According to Time, Pistolis himself has not offered any comment on either his firing or his alleged membership in the hate group. According to the original ProPublica and Frontline PBS report bringing up Pistolis' alleged connection to Atomwaffen Division, though, he wasn't the only member who had spent time in the military.
In a statement to ProPublica and Frontline PBS, the Marine Corps made it clear that the inquiry into Pistolis wasn't a special case.
"The guidance to Marines is clear: participation in supremacist or extremist organizations or activities is a violation of Department of Defense and Marine Corps orders" serious enough to merit firing, Marines spokesperson Maj. Block told ProPublica and Frontline PBS.
So far, no journalistic reports have alleged that any other active Marine was present on the side of the white supremacists in Charlottesville — but according to that statement from the USMC, any Marine discovered to have been there could expect the same fate as Pistolis.