KFC Is Releasing A Colonel Sanders Romance For Mother's Day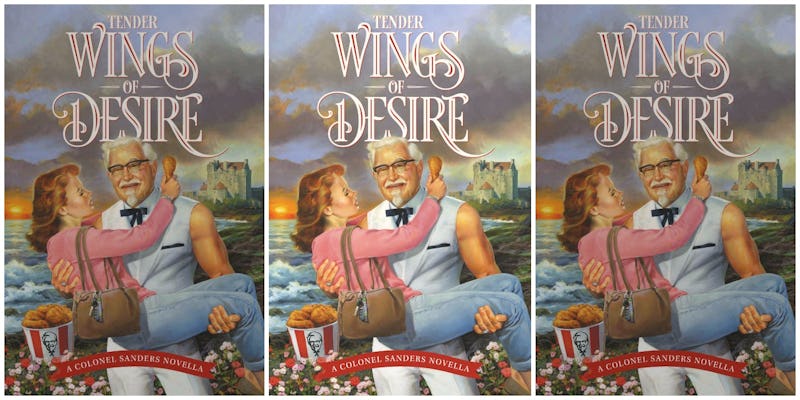 Mother's Day is just a few weeks away, and that means it's time to start thinking about what you're going to give dear ol' mom this year. But what Mother's Day gift appropriately says "thank you for birthing me, raising me, and putting up with all my nonsense" but also costs under $50?
Let's just say — you definitely shouldn't wing it and pick up a bouquet of flowers or box of chocolates the day before. Your mom deserves the best. Your mom deserves a present she can place on the mantle with pride. Your mom deserves a gift that will inspire envy and awe in all her friends.
It's a tall order, to be sure. But I've hatched a plan to help.
If your mother a) loves chicken; b) reads romance novels; c) won't cry fowl over a present that is clearly a joke; or d) all of the above, here's a gift she will never (ever) forget: Tender Wings of Desire, the Colonel Sanders romance novella that is being released by KFC on Thursday, May 4.
Yep. Colonel Harland Sanders.
Of Kentucky Fried Chicken fame.
Here's the scoop:
When Lady Madeline parker runs away from Parker Manor and a loveless betrothal, she finally feels like she is in control of her life. But what happens when she realizes she can't control how she feels? When she finds herself swept into the arms of Harland, a handsome sailor with a mysterious past, Madeline knows she must choose between a life of order and a man of passion. Can love overcome lies? What happens in the embrace of destiny, on the Tender Wings of Desire?
Tender Wings of Desire (Kindle Edition), Free Download, Amazon
But honestly, let's all stop playing like dating a man who can keep us in constant supply of fried chicken isn't a dream come true.
If you, like me, are wondering why KFC is so invested in the Mother's Day game, the answer is pretty simple: it's the restaurant chain's best-selling day of the year. According to a press release from the company, KFC experiences a 40% jump in sales and serves around 380,000 families on Mother's Day.
Here's an idea I can get behind: you should definitely buy your mom dinner and give her some alone time to read a book — whether it be Tender Wings of Desire or any other romance novel.
Tender Wings of Desire is available for free download on Amazon Kindle, beginning on Thursday, May 4. If you want a hard copy, KFC will surprise 100 fans on Facebook with copies of the book and free dinner. You'll have to fight to get one, but your mother will be so, so proud.