A Courtroom Sketch Artist Drew Sean Spicer On Monday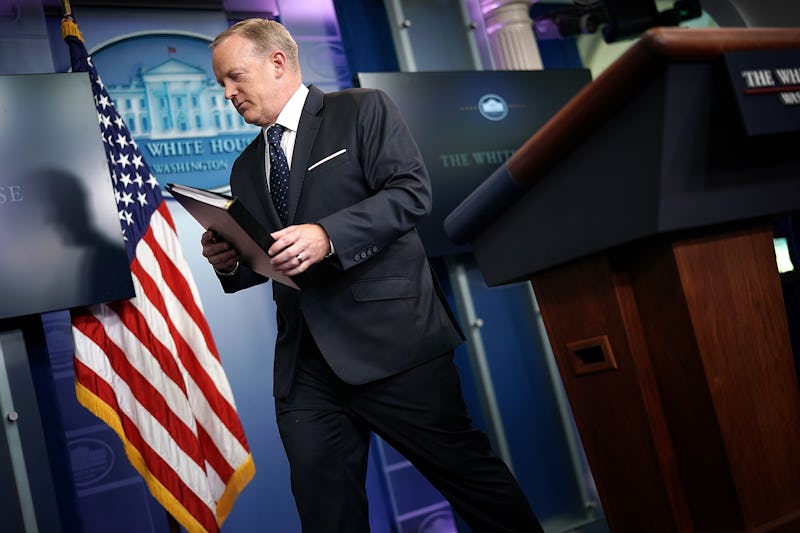 Win McNamee/Getty Images News/Getty Images
For reasons that remain unstated, the White House has recently started holding a good chunk of its press briefings off-camera. As a result, CNN sent a courtroom sketch artist to the White House briefing on Friday to draw Press Secretary Sean Spicer and the crowd of reporters around him.
Sketch artist Bill Hennessy normally draws Supreme Court proceedings, and has also illustrated the Clinton impeachment proceedings, hearings for Guantanamo Bay detainees and other high-profile trials during his decades-long career. CNN reports that, while he didn't have his "usual easel," he was nonetheless able to sketch the briefing from the back of the room on Friday.
The result needs to be seen to be believed. Although the image itself is more or less what you'd expect — it's a picture of Spicer standing behind a podium and briefing reporters — some noted how surreal it was to see a presidential briefing drawn in the manner of a courtroom proceeding. It adds an element of drama and mystery to what's normally a pretty cut-and-dry event.
That said, the White House press briefings have drawn an unusual amount of attention under the Trump administration, so much so that Spicer himself has become a regular target of parody on Saturday Night Live. In February, POLITICO reported that Trump himself was shaken by Melissa McCarthy's depiction of Spicer on the show, and the press secretary has been engulfed in several other controversies since then. According to a Monday report in POLITICO, Spicer is now actively leading the search for his own replacement.
Whether these factors contributed to the White House's decision to pull Spicer away from the cameras is unclear. But whatever the reason, Spicer and Deputy Press Secretary Sarah Huckabee Sanders have only held four on-camera briefings since June, and on three occasions during the third week in June, live audio recordings have been prohibited as well, although news outlets published recordings of those briefings soon after they were over.
Despite all of these restrictions, however, Spicer did give two on-camera interviews to Fox News on Friday.
When asked Friday whether he'd ever appear on camera again at a press briefing, Spicer replied that "some days we'll do it" on camera.
"I think it's great for us to come out here and have a substantive discussion about policies," he added. "I don't think that the be all and end all is whether it's on television or not."