A 'Crazy Rich Asians' Sequel Is In The Works & Here's Everything We Know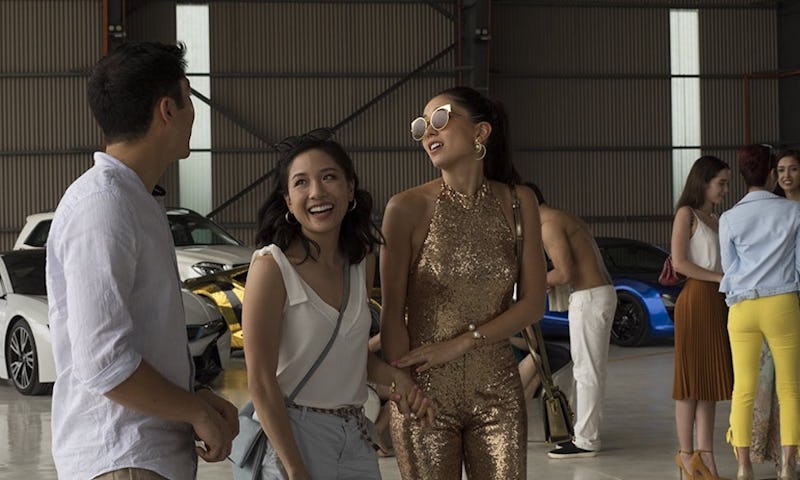 Warner Bros. Pictures
Rachel, Nick and Eleanor — along with all of the extravagant parties and delicious, delicious food — are returning to the big screen once more: The creative team behind the box office smash Crazy Rich Asians is officially returning for a sequel, according to The Hollywood Reporter, including director Jon M. Chu and screenwriters Peter Chiarelli and Adele Lim.
A sequel (based on Kevin Kwan's 2015 follow up to his novel Crazy Rich Asians, titled China Rich Girlfriend) hasn't officially been greenlit by Warner Bros. yet, but bringing the creative team and producers back into the fold promises that a sequel should be arriving in theaters before we know it. After all, Chu and co. created a critically acclaimed film that earned a whopping $35.3 million during it's five-day opening, as reported by THR, so it's not much of a surprise that the studio would want to bring this dream team back together.
China Rich Girlfriend picks up where the first novel left off, and — spoiler alert — follows Rachel (as played by Constance Wu in CRA) and Nick (Henry Golding), on a quest to find her birth father in China. The film's main cast are also expected to reprise their roles for the sequel, as Golding told THR, "It would be so much fun to get everybody back together, back to sweaty old Singapore."
Chu also revealed to Entertainment Weekly that fans can expect to see more of Astrid (Gemma Chan) in the upcoming sequel, along with the beginning of her reconciliation with her first love, Charlie Wu. Charlie — who was played by Glee alum Harry Shum Jr. — only made the briefest of appearances, popping up during the mid-credits scene to make significant eye contact with Astrid at the wedding reception. However, according to the director, he was originally supposed to have a bigger presence in the film.
"What we put in the movie was great — they actually dance together — and it was so awesome, and Harry's so charming and so lovable. But the problem was, it made Astrid feel like she was leaving Michael for Charlie, and we didn't have enough room to expand on the idea," Chu explained to EW. "We just had to stay focused. Ultimately it's about her independence, so that scene was in there all the way until the very end. When we took it out, Astrid's journey became stronger. It was about her, not about her finding love."
However, the director did note that he's looking forward to diving into more stories and really get to know the other characters and bring the other members of the cast to the forefront. "I just can't wait to be able to use more of the cast more," Chu told EW about his biggest hopes for a sequel. "I think we tapped into their talent a little bit, and to be able to dive deeper into their stories and their performances … There's a lot of gold there to mine, and I hope we get the opportunity."
Crazy Rich Asians opened in the top spot at the box office, making it one of the most successful romantic comedies in years, and marked the first time that a major studio film featured a predominately Asian cast since The Joy Luck Club was released in 1993. And based on the critical acclaim and amazing word-of-mouth that the movie has received in the days since it hit theaters, it seems as if the film — and its sequels — will probably only get bigger as time goes on.
As for when the sequel to Crazy Rich Asians will hit theaters, well, it might be a while before fans get to return to the high society of Singapore, as Chu is expected to direct the big-screen adaptation of Lin-Manuel Miranda's musical In the Heights, which is set for a June 2020 release. But, hey, later is better than never, and fans will undoubtedly be willing to wait a little bit if it means the Crazy Rich Asians sequel is done right.