A DC Restaurant Kicked A Trans Woman Out, But Her Story Has A Feel-Good Ending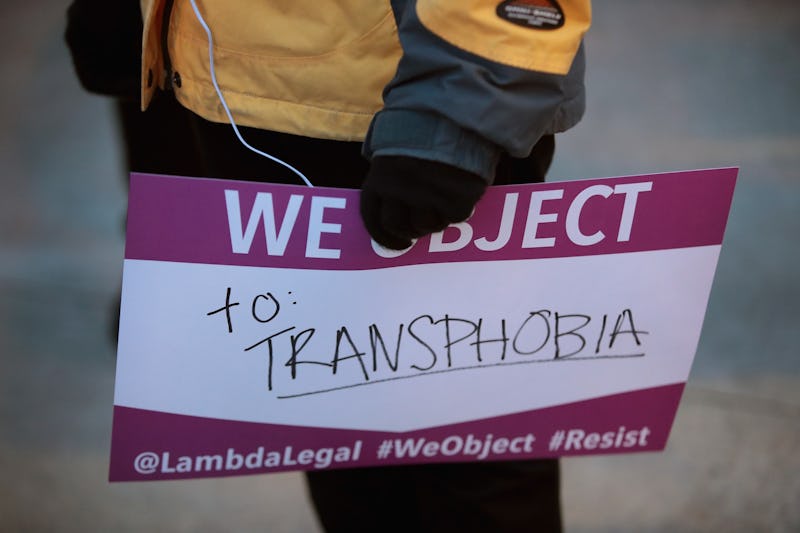 Scott Olson/Getty Images News/Getty Images
There has been great progress in the area of civil rights for the LGBTQ+ community over the past decade, but then every once in a while, something happens that reminds you exactly how far there still is to go. On Sunday night, a transgender woman was ID-ed at a DC restaurant, Cuba Libre, as she was attempting to go into the restroom. According to the woman in question, Charlotte Clymer, the incident ended in an outpouring of support — but it began in absolute humiliation.
"Last night, I was told by the manager of Cuba Libre Restaurant & Rum Bar - Washington D.C. that I couldn't use the women's restroom," Clymer wrote in a public Facebook post and on Twitter. "After challenging his discrimination with D.C. law and responding to his threat of calling the police with 'please do so', I was forcibly removed from the restaurant."
Clymer said that a member of Cuba Libre's wait staff asked for her ID — and no one else's ID — when she was walking into the restroom while at a bachelorette party. Bustle has reached out to Clymer for comment.
"When I asked why, he said that 'female' must be on an ID to use the women's restroom. No one else was asked," Clymer wrote.
Clymer then described how she went into the restroom anyway, and then found the manager along with his employee waiting for her. The manager said that "it's D.C. law that you must have 'female' on your ID to use the women's restroom. I tell him he's wrong and there's no chance I'm showing him my ID," Clymer wrote on Twitter.
As the rapid response press secretary at the Human Rights Campaign, Clymer is actually in a very good position to know the D.C. laws regarding trans people and public restrooms. When the manager continued to claim that she had broken the law, she was able to pull up the actual law, which clearly showed that she was in the right, and show it to the manager on her phone.
"He treated me like I was being irrational, glanced over the text and said 'that's incorrect'," Clymer wrote on Twitter. "He continued to refuse to show this imaginary law he was citing and threatened to call the cops. I told him he should absolutely call the cops. Please do. He then said I need to leave."
Clymer explained that after she tried to actually get the manager to call the cops, a bouncer forcibly pushed her outside. "I stood there at the curb with a friend, feeling shattered," Clymer wrote — but then the situation started turning around.
A number of people, including Clymer's friends and others, had already come out onto the street in support. Then one of them said that she had seen the restaurant's staff ID another person, a non-binary individual, as that person was trying to enter the restroom.
"I'm not the kind of person who calls cops, but at that point, I didn't know what else to do," Clymer wrote on Twitter. Her experience with the D.C. police, she said, was stellar — they arrived promptly and treated Clymer and everyone else with respect and patience, even informing Clymer that the restaurant would likely end up facing multiple investigations regarding their treatment of her. The restaurants other patrons, Clymer explained, also offered support in numerous ways.
"I am incredibly grateful for the allyship I witnessed last night. I needed it badly, and folks stepped up," Clymer wrote on Twitter.
While her own story had a happy ending, though, Clymer also noted that she was in the perfect position to turn things around the way that she did — and that many other trans people might have run into bigger problems.
"Things might have gone very differently if I were not white, aware of the law, and connected to people who can help," Clymer noted on Twitter. "My privilege helped me in this situation. Transgender people, esp. people of color, without my privilege are not so fortunate."