A Designer Just Sent Thong Jeans Down The Runway & They're Actually Awesome???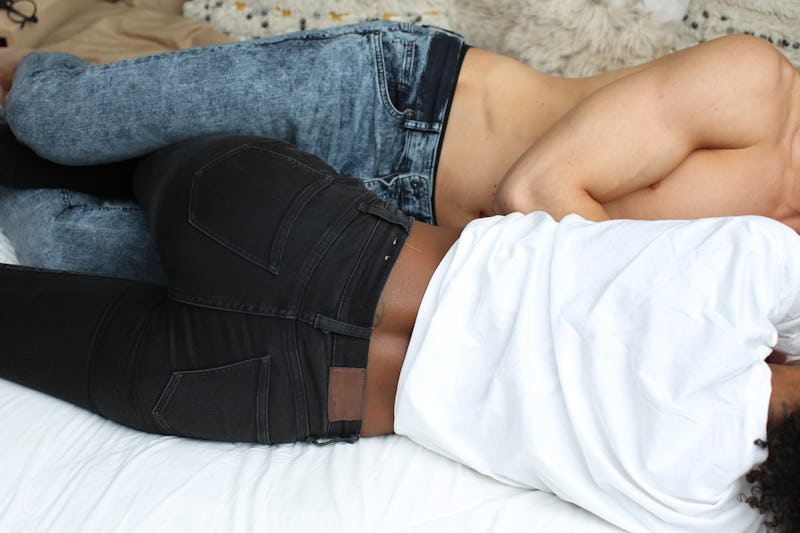 Ashley Batz/Bustle
The other morning, I looked through my closet and opined that there was something missing from my denim collection, something I couldn't really put my finger on. I have many different cuts, washes, and styles, but all of them somehow felt far too practical for the consistently ridiculous and horrifying comedy of errors that is the Year 2017. When I saw the latest denim creation from Amazon Fashion Week in Tokyo, I realized what I needed: not just denim, but denim that is also a thong.
According to Harper's Bazaar, thong jeans come from the mind of new designer Thibaut.
"Today at Amazon Fashion Week Tokyo," Harper's writer Lauren Alexis Fisher shared, "The most naked pair of jeans to ever exist made their official debut...the barely-there style took cut-out jeans to an entirely new level with the front and back panels of the legs cut out, leaving nothing but the seams."
Talk about music to my ears. I've been a thong skeptic for many years, but something about this combination — the meager fabric offering of a thong and the rugged durability of a denim — really speaks to me. Perhaps the most endearing thing about the thong denim is that it's cut in such a way that it's not just a pair of denim underwear: It has seams, a zipper, and even cuffs.
Behold, the byproduct of a brilliant mind and likely some inspiration from all the weird denim trends of 2017:
Though thong jeans could be styled in myriad ways, the styling from Thibaut is most excellent, as well: a nude bodysuit, a trend that (at least from my POV) was cemented into our consciousness by Kim Kardashian, and a pair of New Balance sneakers to bring the entire thing together. As the jeans just went down the runway, there's no telling how the jeans actually feel on a body. The style seems to indicate that There Will Be Chafing, and there's no denying that There Will Be Chills.
Thibaut's thong jeans are yet another addition to what many fashion outlets are politely calling "unconventional denim trends." To this point, 2017's greatest hits include Topshop's Clear Knee Mom Jeans, which eschewed traditional patchwork in favor of a cut out piece of shower curtain over the knees:
Then there was Reformation's zipper jeans, which featured a very lengthy zip situation that stretched from the navel, all the way to the top of the buttcrack. These were jeans you could literally zip yourself into leg by leg, and looking at them, it's clear they should come with a safety warning:
And who could forget Opening Ceremony's Detachable Jeans, which featured removable legs that resembled sleeves, leaving you free to choose if you wanted to wear denim, or simply a denim diaper:
For me, none of these trends quite stack up to the beauty of Thibaut's thong jeans. I'm fully aware of the fact that they will most likely make their way around the internet as a punchline — but before you send them to a friend or tweet them with an exasperated emoji face, consider this: Why not take joy in jeans like these, a garment of the highest comic absurdity? The news cycle being what it is, why not take the time to learn to love thong jeans and all they represent, instead of conclusively dismissing them? In short, how can you really say a hard no to something that looks at you dead in the eye, barely-there seams flapping in the wind, and implores you to say yes? I'm not being glib at all when I say that this isn't the look that 2017 needs: It's the look that 2017 deserves.