A Detained Mom Separated From Her Son Is Suing Trump & The Reason Will Break Your Heart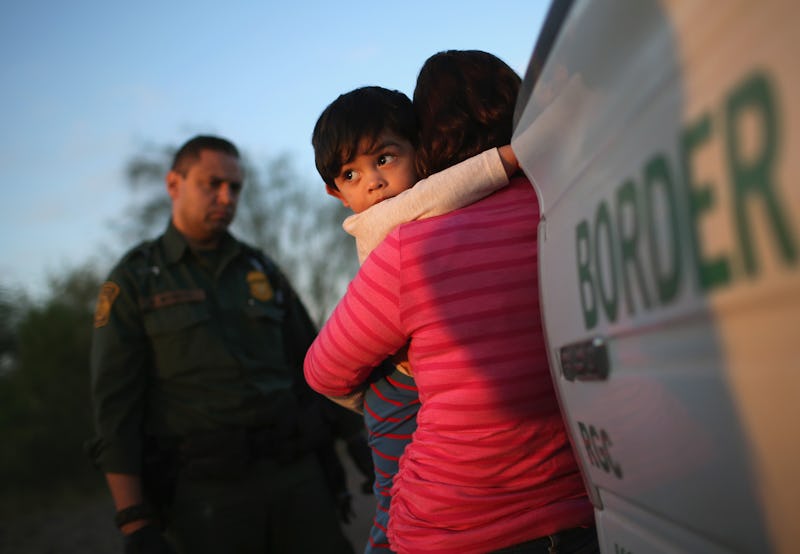 John Moore/Getty Images News/Getty Images
A Guatemalan woman was separated from her 7-year-old son last month as the two of them crossed into the United States to seek asylum. Beata Mariana de Jesus Mejia-Mejia was detained by border agents and reportedly had her son forcibly taken from her, but she has not been able to see him even though she has since been released from custody. Now, this immigrant mom is suing the Trump administration because officials won't tell her where her child is.
According to The Washington Post, Mejia-Mejia is suing the U.S. government on the grounds that her separation from her child violated her rights under both the Constitution and international conventions. In the lawsuit, Mejia-Mejia stated that she and her son crossed the U.S.-Mexico border near San Luis, Arizona on May 19. She alleged that her son was taken away from her two days later, while they were both in detention.
Since being separated from her son, Mejia-Mejia has reportedly only been able to speak to him once on the phone, after she secured an immigration bond. Officials told her that her son was being housed in a facility in Phoenix, operated by the Office of Refugee Resettlement. When she called him, Mejia-Mejia said that her son was in distress, crying and repeatedly saying "Mama!"
The Washington Post reported that Mejia-Mejia and her son were seeking asylum in the U.S. after facing violence and death threats from her husband. Mejia-Mejia was released from custody on Friday after posting bond, but still does not have her son back. Now, Mejia-Mejia is reportedly suing six federal agencies and 10 top officials.
In an interview with her lawyer, Mejia-Mejia said that her aim in filing a lawsuit is simply to be reunited with her son.
"It's horrible to have your child taken away from you, and it's not just me," she said, according to The Washington Post. "There are many other mothers who are crying. What I want is to be back with my son."
Mejia-Mejia's lawsuit alleges that the last time she saw her son was when he was taken away from the holding cell where they were both being detained. According to Politico, the lawsuit not only demands that her son be released, but also requests an order prohibiting officials from separating them again in future. Moreover, the lawsuit calls for a money award of damages for the pain both Mejia-Mejia and her son have experienced.
The Daily Mail reported that Mejia-Mejia was never indicted for entering the U.S. without the necessary documents, but she was held in custody while her asylum request was being processed. Mejia-Mejia, who is reportedly living in Austin, Texas as she waits for news of her son, told the Daily Mail that her "main focus is to get Darwin back in my arms."
"I am a mom, and mothers fight for their children," Mejia-Mejia told the Daily Mail. "I hope my fight can help other moms avoid this horror in their lives."
Mejia-Mejia's lawsuit comes as the Trump administration faces backlash for its policy of separating immigrant families at the southern border. Attorney General Jeff Sessions has been the driving force behind the administration's "zero-tolerance" immigration policy, which states that every adult immigrant who crosses into the U.S. without the necessary documents will face criminal charges.
As a result of this policy, immigrants facing criminal charges are sent to a federal jail, where they are not allowed to keep their children with them. Politico pointed out, however, that Mejia-Mejia may not have been directly impacted by this particular aspect of the policy, given that she did not face criminal charges upon her entry into the U.S.