A TV Crew Tried To Sneak A Fake Bomb Through Airport Security & It Backfired Big Time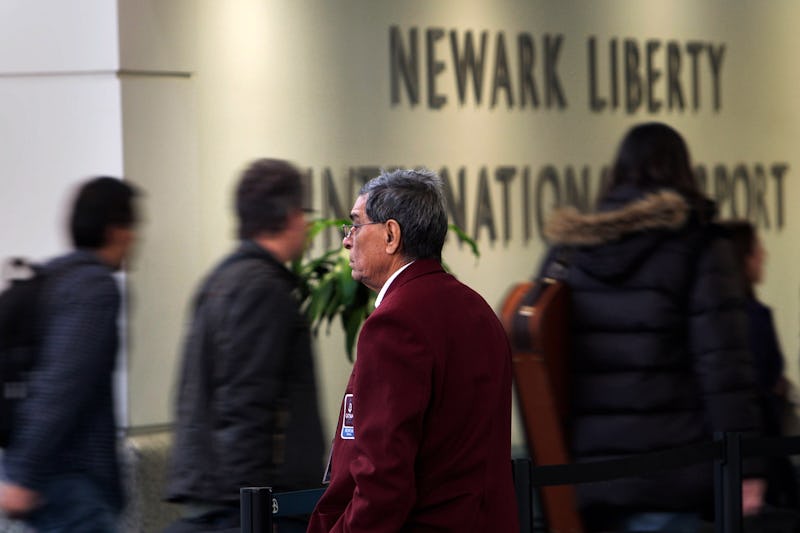 Chris Hondros/Getty Images News/Getty Images
A film crew was arrested for allegedly carrying a fake bomb through New Jersey's Newark Airport on Thursday, apparently as part of an effort to get a reaction out of the Transportation Security Administration and other travelers. According to the New York Daily News, the crew intended to film the reaction and use that footage for a reality show, Staten Island Hustle, which was recently picked up by CNBC.
The filmmakers didn't make it through security at Newark's Terminal C with the device, and the scheme had serious consequences. Port Authority police arrested the crew after TSA found the fake bomb in a carry-on bag. Their van was seized and searched, and the FBI has since gotten involved.
The fake bomb "had all the markings of an improvised explosive device," said a spokeswoman for TSA. The film team later explained that it was made from PVC pipe, a flexible hose, and vacuum cleaner parts, and was constructed by an engineer they'd hired.
"The TSA bomb tech just happened to be (at the checkpoint)," a source told the New York Daily News. "He quickly looked it over, said it was nothing and they were taken in." Members of the group were reportedly filming the incident while it took place.
Staten Island Hustle follows a group of investors who are long-time friends and live in New York City's Staten Island. "Without MBAs (or even college degrees) these men prove that grit, ingenuity, and street smarts may be the real key to success," reads CNBC's description of the show. "Of course, it helps that somebody's always 'got a guy' with the right connection or a good hook-up." The show is currently set to premiere in the spring.
Endemol Shine North America — one of the production companies behind the show, known for producing Fear Factor, The Biggest Loser, and MasterChef — has responded to the incident. "We are looking into the details of what happened as a matter of priority and are in contact with relevant authorities on the ground," a spokeswoman said. "While this process is ongoing we are unable to comment further but in the meantime, we sincerely apologize for any disruption caused."
Bustle reached out to CNBC for comment but has not yet heard back.
The filmmakers are facing fines of up to $13,000 for each of multiple filed charges, including conspiracy and creating a false public alarm. A source told nj.com that they were probably also charged with transportation interference.
TSA screens millions of people per day and often finds hidden illegal items. In 2016, they discovered a record 3,391 firearms in carry-on bags, or over nine per day. Unlike the Staten Island Hustle crew, of course, most passengers are hoping their goods will not be found. The administration reports that knives, for example, are often disguised or hidden in thermoses, shoes, and within the lining of bags.
TSA is known to have a poor record for discovering illicit items. In 2015, it failed 95 percent of the trials run by the U.S. Department of Homeland Security, in which the department tried to smuggle contraband through security checkpoints. Things have improved a little since then: In 2017, TSA failed 70 percent of the time.
In other Newark news, several outlets reported on Thursday that New Jersey Governor Chris Christie was stopped by police for allegedly trying to bypass security by using a special access entrance at the airport. Christie has denied the accusation, saying that the story was "absolutely false" and even "pure fiction."
If the government shuts down on Friday night, TSA agents will work without pay until it reopens.