This Father's Testament To Tom MacArthur Is Unforgettable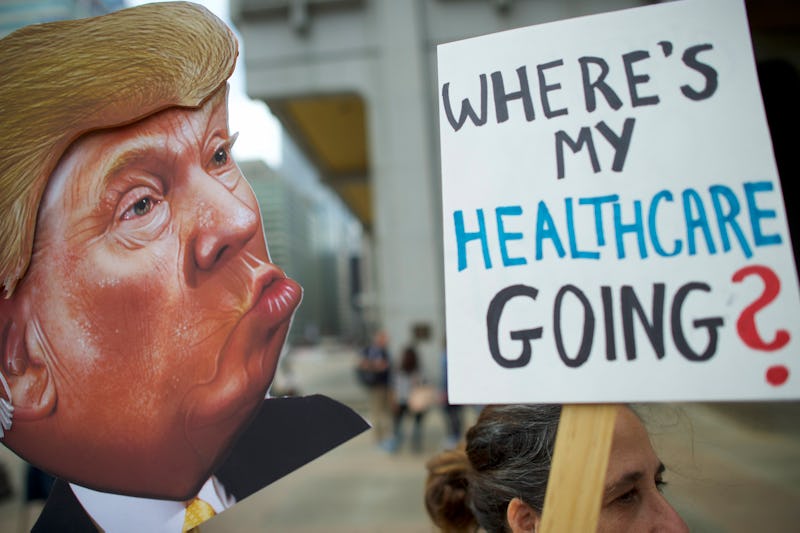 Mark Makela/Getty Images News/Getty Images
Tom MacArthur had a rough evening on Wednesday. The GOP representative, who was a key figure in shaping the newly-revised American Health Care Act, hosted a town hall in New Jersey to speak with constituents for over four hours about the new health care legislation. Many shared stories of how the bill would personally affect them and their families, and one of the most powerful testimonies came from a father who called MacArthur a threat to his family because of the AHCA's potential to strip insurance coverage from patients with pre-existing conditions.
The man, a father of two children, explained to the representative that both of his kids had been born with a pre-existing condition, one with a cardiac condition and one with a thyroid issue. Under an amendment to the AHCA that MacArthur helped write, states could apply to opt-out of current mandates that require insurance companies to provide low-cost coverage to those with pre-existing medical conditions, like this man's children.
"You have been the single greatest threat to my family in the entire world," the man told MacArthur. "You are the reason I stay up at night. You are the reason that I can't sleep."
You can watch the full exchange around the 10-minute mark here.
In an impassioned, almost five-minute speech, the man began his address to the representative by stating that MacArthur was failing to take his opinions into consideration, or to understand the complexity of how the health care bill could affect everyday Americans.
"What's your question?" MacArthur interjected impatiently.
"Oh, we haven't even begun," the man responded. "I'm not done with you yet."
The man explained that in addition to his children with pre-existing conditions, his wife was diagnosed with cancer at age 40. Although she has since recovered, she lives each day in fear that it will one day resurface and she will not be able to pay for treatment.
The man's employer currently provides his family's insurance, but if he were to lose his job, he would not be able to buy a new plan under the AHCA because the rates would be much higher for his family members, given their pre-existing conditions.
"If I lose my job, we can't afford to get private insurance," the man said. "If I lose it, it's gone."
MacArthur didn't respond to the man's impassioned statement. But the exchange spoke volumes about the importance of politicians engaging with their constituents to understand the very real, very terrifying effects that their policies can have on everyday people.