Federal Judge Halts Trump's Travel Ban Nationwide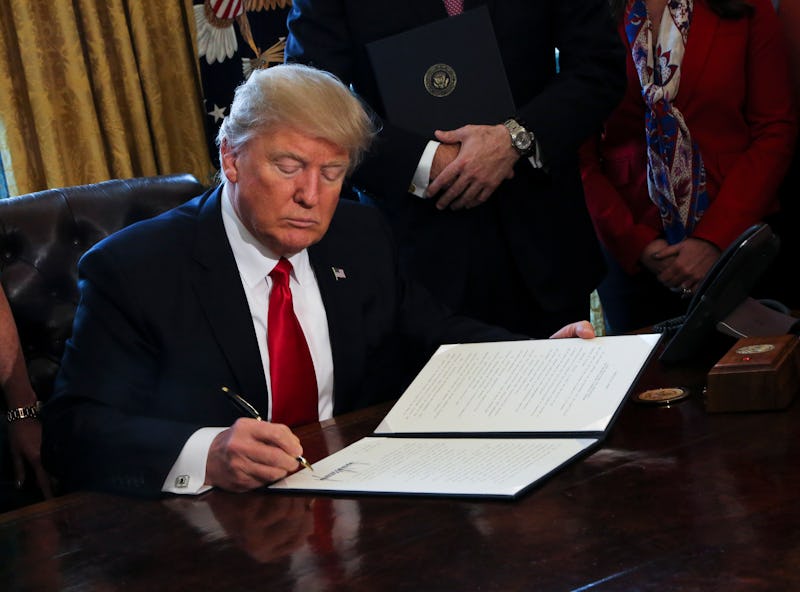 Pool/Getty Images News/Getty Images
A federal judge halted President Donald Trump's travel ban on Friday night, just a week after the president signed the contentious executive order. U.S. District Judge James Robart blocked Trump's travel ban from being enforced nationwide — the first extensive federal ruling to apply the order to every airport across the nation. On Saturday, the Department of Homeland Security announced that it would abide by the ruling and suspend the travel ban. It's a huge blow to the Trump administration, which has stood by the controversial ban and its chaotic roll-out.
Robart, who presides over the U.S. District Court Western District of Washington in Seattle, issued a temporary restraining order that stops federal agents, servants and employees at all U.S. borders and points of entry from enforcing the travel ban. The controversial ban barred visa holders from seven Muslim-majority nations for 90 days, all refugees from entering for 120 days, and placed an indefinite ban on Syrian refugees.
In his ruling, Robart wrote that the work of the federal court is to ensure that "the actions taken by the other two branches comport with our country's laws, and more importantly, our Constitution."
He added: "The court concludes that the circumstances brought before it today are such that it must intervene to fulfill its constitutional role in our tripart government."
U.S. Customs and Border Protection quickly alerted airlines that they were reinstating visas that were canceled, and that airlines can now board passengers from those seven previously banned countries as well as refugees, CNN reported. As of Saturday morning, several international airlines have confirmed that they are complying with the order.
In a statement early Saturday morning, Qatar Airways said nationals of the seven listed countries, as well as refugees and Green Card holders, will be permitted to travel. A spokesperson for Air France also told BBC News that the French airline will be boarding passengers from those previously barred countries, "providing their papers and visas are in order."
Unsurprisingly, Trump isn't too happy about the federal judge's ruling. In a series of tweets posted Saturday, Trump lashed out at Robart, going so far as to call him a "so-called judge."
Trump added that the ruling was "ridiculous" and claimed that it takes "law-enforcement away from our country." He vowed to overturn the ruling, setting up an inevitable showdown between the executive and judicial branches.
White House Press Secretary Sean Spicer tweeted his statement on Twitter Saturday. Spicer called Trump's travel ban "lawful and appropriate" and confirmed that the Department of Justice will fight this federal ruling.
"The president's order is intended to protect the country and he has the constitutional authority and responsibility to protect the American people," Spicer tweeted. He added that whenever the president finds the entry of "any class of aliens...detrimental" to the United States, Trump has the power to "impose...any restriction" he wants.