There's Been A Shooting At A Florida High School & Authorities Say Many People Are Injured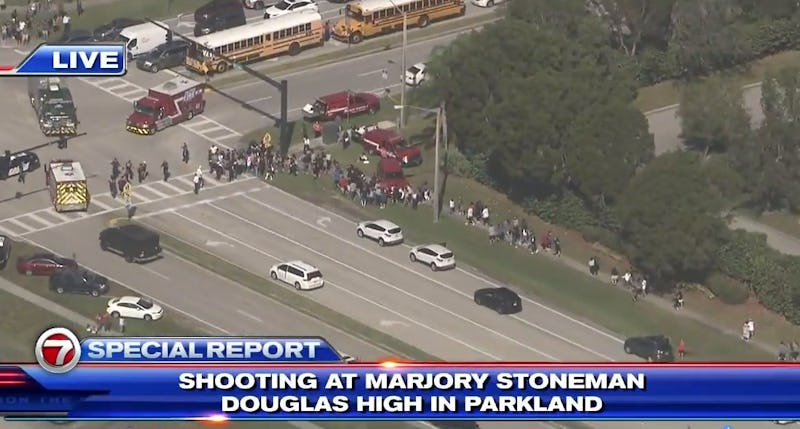 There are "multiple casualties" following a shooting at Marjory Stoneman Douglas High School in Parkland, Florida, according to local station WSVN 7 News. Aerial footage filmed by TV stations shows heavily armed SWAT teams entering the building, and the school is currently on lockdown, according to CBS. The Margate Fire Department told CBS Miami that there are between 20 and 50 victims. The Miami Herald has confirmed one death, and MSNBC reports that the shooter is in custody. It's unclear how many casualties there are at this time, but the Broward's sheriff's office notes there are at least 14.
Warning: This article contains information about gun violence, which some may find triggering.
UPDATE: The Broward County Sheriff's Office has confirmed that at least 17 people were killed in the shooting.
EARLIER: On Twitter, the Coral Springs police department wrote: "Police are working an active shooter scene, and ask that if you are in touch with your student you ask that they remain calm and barricaded until police come to their room, this is for everyone's safety. Do NOT call our 911 or non-emergency number unless it is an emergency."
Meanwhile, the Broward Sheriff's department wrote on Twitter: "#BSO is working a developing incident regarding a report of active shooter located at 5901 Pine Island Rd, Parkland. Here's what we know so far: deputies are responding to reports of a shooting at Stoneman Douglas High. There are reports of victims. PIO will be on scene 3:15pm."
Later, it wrote: "So far we have at least 14 victims. Victims have been and continue to be transported to Broward Health Medical Center and Broward Health North hospital. #StonemanShooting."
The White House correspondent for AFP, Andrew Beatty, wrote on Twitter that President Trump had been informed of the shooting. In a statement, deputy press secretary Lindsay Walters noted: "The president has been made aware of the school shooting in Florida. We are monitoring the situation. Our thoughts and prayers are with those affected."
At least two of the people on lockdown inside the school described the scene via social media.
Local congressperson Rep. Ted Deutch wrote on Twitter: "Incredible school in my district - great teachers and staff, involved parents and amazing kids. Spoke with the kids there just a few weeks back."
Helicopters captured disturbing footage of children running from the school.
Trump commented on the shooting later Wednesday.
He then added:
Out of respect for the victims of the shooting, the White House canceled its afternoon scheduled press briefing.
Melania Trump also tweeted her sympathies for the victims.
This is the 19th school shooting so far of 2018.
Sen. Chris Murphy, a vocal advocate for common-sense gun reform, immediately went to the Senate floor to demand gun control measures.
Marco Rubio, a Florida senator and formal presidential candidate, also weighed in on Twitter.