A French Bulldog-Themed Café Exists & The Pics Look Like Doggy Paradise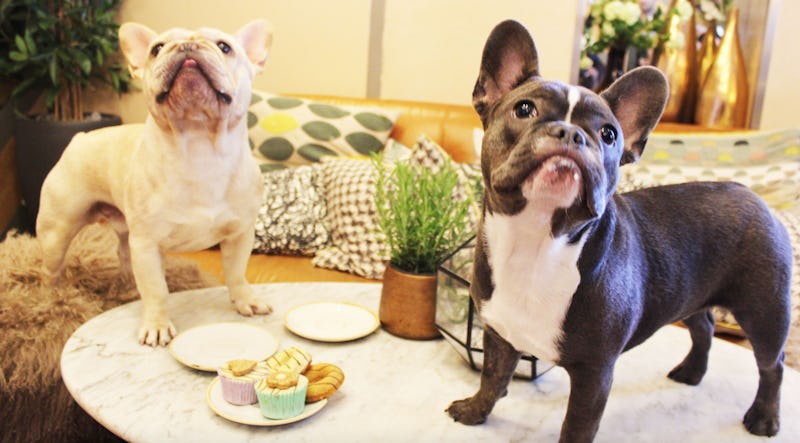 Pug Café
Last year, the French Bulldog was ranked the fourth most popular breed in the United States by the American Kennel Club; surprising to many, since 2017 was the French Bulldog's inaugural appearance in the top four, knocking the beloved Beagle from its position in the top five (one it held for almost two decades). But it appears the smushy-faced Frenchie only continues to grow in popularity. Fittingly, now you can sip coffee while you bask in the beauty of the Frenchie, at a new French Bulldog Pop-Up Café.
According to Pretty52, the French Bulldog Pop-Up Café was organized by the folks behind an equally intriguing Pug Café. The team regularly organizes cute pop-up cafés inspired by particularly cute pups. The pop-up Frenchie Cafe will take place next month, on Sunday, September 9. It will be hosted at The Happenstance, a modern eatery that overlooks St.Paul's Cathedral. Visitors will be given a 70-minute stay at the café at various points throughout the day. Tickets are available for £15 (roughly $19), but if you plan to bring your own Frenchie that price goes down to £10. Though, if you think about it, is any price too high when you are paying to drink coffee with a crew of Frenchies?
As organizers are expecting a lot of interest, getting into the French Bulldog Pop-Up Café is a little bit complicated. Frenchie lovers (as opposed to owners) need to send a booking request to attend. Nobody without prior booking will be able to attend the café. On Saturday, August 18, two secret email addresses will be released at 10 a.m. GMT on the main page, event page, Instagram, and on pugcafe.com. Frenchie owners (who plan on bringing their furry friends to the event) also need to submit a booking request, but through a different secret email that will be released on August 18.
It is also recommended you have a booking request ready to send before the email is even released. If you're trying to snag a spot, draft up an email with your full name, a contact number, a human group size, and your preferred time slots. Then, when the email is actually released, all you need to do is press send. Be prepared to wait up to three days to hear back from organizers. Again, this is expected to be an extremely popular excursion.
Admission to the French bulldog Pop-Up Café includes entry into the once-in-a-lifetime experience, as well as some goodies. Frenchie owners will receive a pupuccino and a bag of pupcorn to feed their accompanying dogs. Frenchie lovers will receive a bag of doggy treats to make friends with the dogs.
The French bulldog Pop-Up Café would have never come to fruition if it were not for the prior success of the original Pug Café. Pug cafés have been popping up in cities including Manchester, Liverpool, London, Birmingham, Nottingham and Brighton, so naturally the next move was to diversify the breeds included in the café lineup.
There are currently no plans to bring these events to the United States, but with the explosive popularity of the Frenchie, it would stand to reason you could patronize a Frenchie café sooner or later.