Here's Why Google Is Being Sued For Gender Pay Discrimination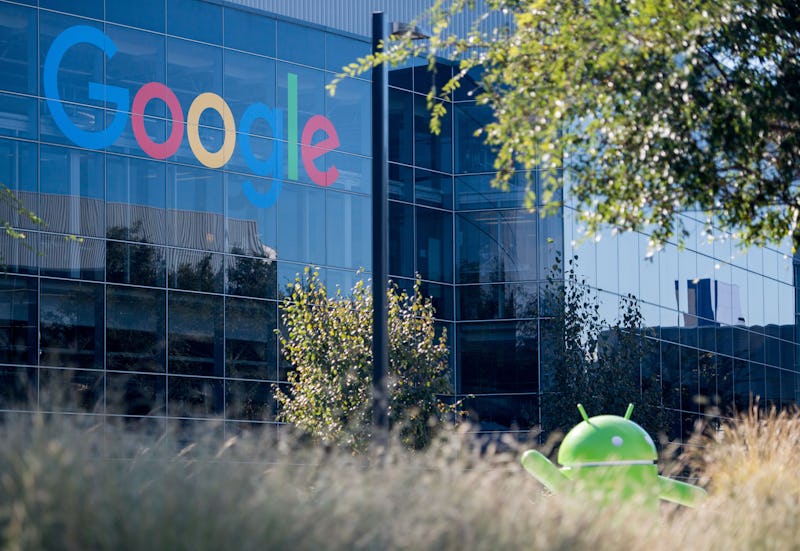 JOSH EDELSON/AFP/Getty Images
A new lawsuit claims that Google has "segregated" women into lower-paying jobs with little opportunity for advancement despite their qualifications. The class-action lawsuit was filed on behalf of all women who've been employed by the tech giant over the last four years, and it alleges that the company denied women promotions and systematically paid them less money for the same work. Google denied the allegations Thursday, saying that it has "extensive systems in place to ensure that we pay fairly."
The suit, which was filed Thursday in San Francisco, accuses Google of violating California's equal pay laws and encouraging unlawful business practices. In a statement, Google spokesperson Gina Scigliano denied the allegations in the lawsuit, and said that "if we ever see individual discrepancies or problems, we work to fix them, because Google has always sought to be a great employer, for every one of our employees."
"We've been talking about these issues for a long time, and it hasn't really changed," Kelly Ellis, a former Google employee and lead plaintiff on the case, said in an interview with the Guardian. "This [lawsuit] is going to be one of the only ways to get these companies to change how they hire and compensate women."
Ellis, who filed the lawsuit along with two other former employees, said that when she was hired as a software engineer for Google Photos in 2010, she was placed in "Level 3," a tier of employee generally reserved for recent college graduates. But when a man who graduated the same year as her was also hired as a software engineer, he was placed in "Level 4," which comes with "substantially higher salary and opportunities for bonuses, raises, and equity," according to the lawsuit.
Additionally, Ellis said that male employees who were less or equally qualified to her were promoted to Level 4 before she was. The lawsuit alleges that her requests for a promotion were initially denied on the grounds that she hadn't been at the company long enough, despite her having received "excellent performance reviews." Again, Google has denied these allegations.
The lawsuit comes as the Department of Labor is in the midst of a dispute with Google involving alleged wage gaps between male and female employees at the company. In 2015, the Labor Department requested employer data from Google as part of an investigation into whether or not it was complying with anti-discrimination laws; however, Google refused to supply that data, and the Labor Department responded by suing the company in January.
"The handful of OFCCP requests that are the subject of the complaint are overbroad in scope, or reveal confidential data, and we've made this clear to the OFCCP, to no avail," Google said in response to the Labor Department's lawsuit. "These requests include thousands of employees' private contact information which we safeguard rigorously. We hope to continue working with OFCCP to resolve this matter." OFCCP refers to the Office of Federal Contract Compliance Programs, the division within the Labor Department that requested the data.
This isn't the first time Ellis has accused Google of promoting and tolerating misogynistic behavior toward its female employees. In 2015, she sent a series of tweets accusing one of the company's male engineering directors of sexually harassing her during a company retreat, and said that Google brass responded by reprimanding her instead of him. Google refused to comment on those allegations.
The lawsuit Ellis filed Thursday, however, does not allege sexual harassment, only pay disparity and a lack of opportunity for advancement for Google's female employees.
"While Google has been an industry-leading tech innovator, its treatment of female employees has not entered the 21st century," Kelly Dermody, an attorney for the plaintiffs, said in a statement.