A "Black Voters Matter" Bus Was Stopped From Taking Senior Citizens To Go Vote Early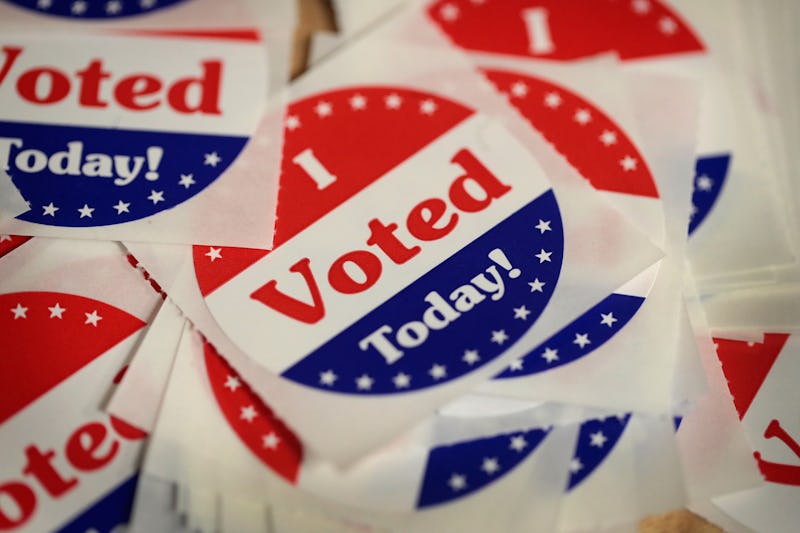 Scott Olson/Getty Images News/Getty Images
With the midterms less than a month away and early voting already beginning in certain areas, many people have been calling out alleged instances of voter suppression. One recent incident labeled as such occurred in Georgia's Jefferson County on Monday. County officials stopped a "Black Voters Matter" bus from taking senior citizens to vote early, and the riders were told they needed to vote another day, per The Atlanta Journal-Constitution.
Approximately 40 black members of the senior center, which is run by the county, were preparing to head to the polls on Monday for the first day of early voting in Georgia. While they were waiting to depart — dancing to James Brown's "Say it Loud: I'm Black and I'm Proud," according to The Atlanta Journal-Constitution — someone apparently noticed their bus and called county officials, who then contacted the center.
LaTosha Brown of Black Voters Matter (BVM), the group that organized the event, told the paper that the center director asked the seniors to leave the bus. BVM had previously gotten permission from the center for the trip. "We knew it was an intimidation tactic," Brown told the Journal-Constitution. "It was really unnecessary. These are grown people." The NAACP is asking the county to investigate the incident, according to ThinkProgress, which first reported the story on Monday.
Officials say that they stopped the trip because it was too political. "The Jefferson County Board of Commissioners has a long standing practice of not allowing political activities during normal business hours or at County sponsored activities," administrator Adam Brett said in a statement obtained by Bustle. He added that because the event was headed by Diane Evan, a leader in the Jefferson County Democratic Party, it was "considered a political event."
Brett said that county officials didn't approve of the idea of seniors being transported by an organization they hadn't vetted. "These senior citizens are under the complete care and supervision of Jefferson County while they are at the Senior Center," he said, adding that officials "felt uncomfortable with allowing Senior Center patrons to leave the facility in a bus with an unknown third party." Bustle has reached out to BVM for comment.
The county is insisting that the incident wasn't an example of voter suppression. "No seniors at the Jefferson County Senior Center were denied their right to vote," Brett said. But Evans argued differently. "When they're suppressing votes, they're going to come up with any kind of excuse about what your problem is," she told the Journal-Constitution.
Georgia is hosting one of the nation's most closely-watched 2018 races between Democrat Stacey Abrams and Republican Brian Kemp for governor. A recent poll from the Journal-Constitution and Channel 2 Action News found that Kemp has a very slim, 1.4-point lead over Abrams, which is within the margin of error. If she wins, Abrams will be the United States' first black female governor, according to Vox.
The 1965 Voting Rights Act used to require federal oversight of changes to voting laws in areas that had a history of voter suppression, which included Georgia. The Supreme Court repealed that provision in 2013; since then, officials have implemented many practices that advocates say are preventing targeted populations from voting. Earlier this month, the AP reported that Kemp, who is currently Georgia's Secretary of State, is holding up 53,000 voter registration applications and that the majority are from prospective black voters.