A GA Mayor Implied Black Voters Matter & This Notorious Cult Leader Are Similar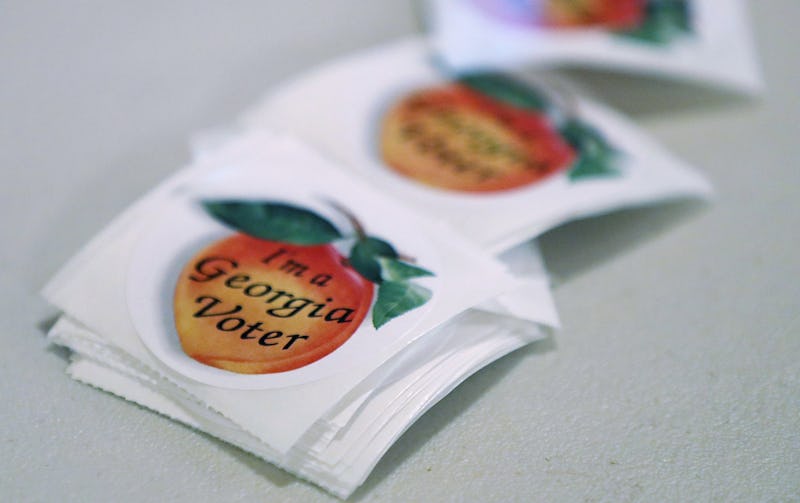 Joe Raedle/Getty Images News/Getty Images
Earlier this week, Jefferson County, Georgia officials ordered a group of elderly black voters off of a bus that was heading to the polls, in what organizers have alleged is a case of voter intimidation. Adding to the backlash over the incident, a Georgia mayor compared "Black Voters Matter" to a cult. Bustle has reached out to Jefferson County for comment.
"It is utterly reprehensible that your group maintains that all black voters should vote for a black candidate just because they are the same color as you," Bartow Mayor Robert Morris wrote in a since-deleted post on Facebook. "A man named Jim Jones once ran an organization like that. Better check that Koolaid you are serving up." Jones is a famous religious cult leader, who in 1978 led a mass murder-suicide of hundreds of his followers by having them drink cyanide-laced punch.
According to ThinkProgress, Jefferson county officials were notified on Monday about the Black Voters Matter bus by a person at the senior center where the elderly voters were boarding the bus. A county administrator told The Atlanta Journal-Constitution that because the senior center is county-run, "political activity," such as the Black Voters Matter bus tour, was not allowed.
Black Voters Matter co-founder LaTosha Brown told ThinkProgress that they are a nonpartisan group, and were not advocating for any particular candidate, only encouraging African-Americans to vote in the election. "If you knew our work you would know we have supported and continue to support both white and Black candidates," the group commented on Morris' post. "We support the best candidates for us. ... You are the one that should check yourself and your own racial bias. Have a blessed day."
In a statement, Jefferson County Administrator Adam Brett said the bus tour still constituted a political event because the county's Democratic chairwoman, Diane Evans, had helped to organize it. "Jefferson County administration felt uncomfortable with allowing senior center patrons to leave the facility in a bus with an unknown third party," he said. "No seniors at the Jefferson County senior center were denied their right to vote."
Critics say the county's decision is part of a larger pattern of voter suppression throughout the state. Georgians began early voting for the midterm elections on Monday. And with Stacey Abrams running to be the state's first black woman governor, many are concerned that strict voting laws and incidents like this one are aimed at limiting the African-American electorate from casting ballots.
Black Voters Matter organizers told ThinkProgress that Morris' opinions are not uncommon in the state. "It is really a reflection of how as soon as we say 'Black voters matter,' all people like that hear is we only want to vote for black people because they're black versus because of what the issues are," Brown's co-founder Cliff Albright said. In 2017, he said, the organization played a role in helping Doug Jones secure his Alabama Senate seat.
He continued, "It's a reflection of their own biases because they know it's how they operate, and they assume that the way we see power is the same as the way they see power. In reality, right now we're supporting several white candidates."