GOP Lawmaker Refuses To Say If All Americans Are Entitled To Food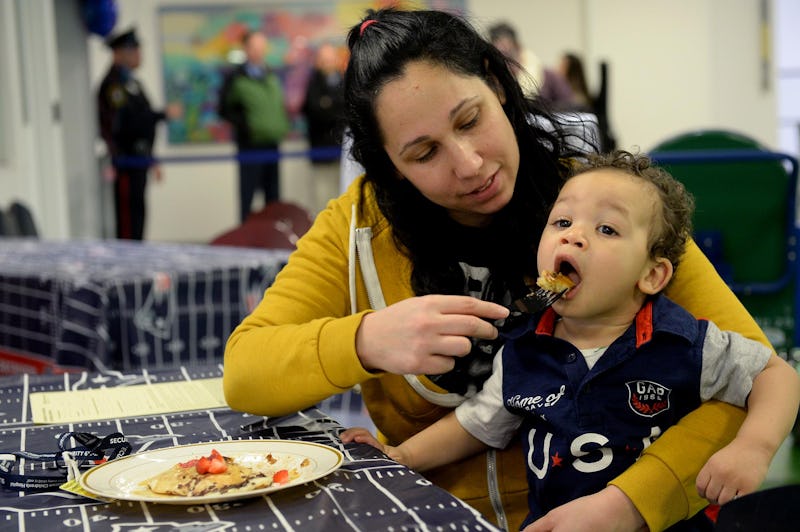 Darren McCollester/Getty Images Entertainment/Getty Images
Donald Trump's 2018 budget proposal has put many Republican lawmakers on the defensive as they field questions about which, if any, of the budget's controversial cuts to social safety-net programs they support. In an interview about cuts the president has proposed to make to the food stamps program in particular, one Republican lawmaker wouldn't say whether all Americans were entitled food. In an interview with NPR over the weekend, Nebraska Rep. Adrian Smith repeatedly dodged a question on whether or not every American was entitled to eat.
"Anytime we're talking about food and nutrition, it's an important topic and especially for people in need," Smith, who has represented Nebraska's 3rd congressional district since 2007, said in an interview that aired Saturday on NPR's Weekend Edition Saturday. "We do not want to leave our most vulnerable without nutrition."
However, Smith said he felt "very minor shifts" to funding for the Supplemental Nutrition Assistance Program (SNAP), also known as food stamps, could "be very effective in terms of fiscal policy" as long as we made "sure that we do not harm the most vulnerable among us." When pressed by Weekend Edition Saturday host Scott Simon about whether or not he considered SNAP to be an essential program, Smith seemed to hesitate.
"Let me ask you this bluntly: Is every American entitled to eat?" Simon asked.
"Well, nutrition, obviously, we know is very important. And I would hope that we can look to..."
"Well, not just important, it's essential for life," Simon interrupted before circling back to his initial question. "Is every American entitled to eat?"
"It is essential. It is essential," Smith admitted.
"So is every American entitled to eat, and is food stamps something that ought to be that ultimate guarantor?" Simon pressed.
"I think that we know that, given the necessity of nutrition, there could be a number of ways that we could address that," Smith said in comments that implied he wasn't completely sold on the necessity of SNAP. Later Smith conceded he wasn't, at least for now, ruling out supporting a budget that called for cuts to the food stamp program. "I want to look at an entire budget, look at all of the details," he said. "I'm still sifting through the details of the newly released budget."
The budget proposal President Trump unveiled earlier this month aims to cut federal spending over the next 10 years by more than $3.6 trillion by slashing several anti-poverty and social safety-net programs. Among the controversial cuts proposed is $193 billion worth of reductions to SNAP, which provides food-purchasing assistance to some 45.4 million low-income people.