A Harry Potter Documentary Is Coming This Fall To Join The New 'History Of Magic' Book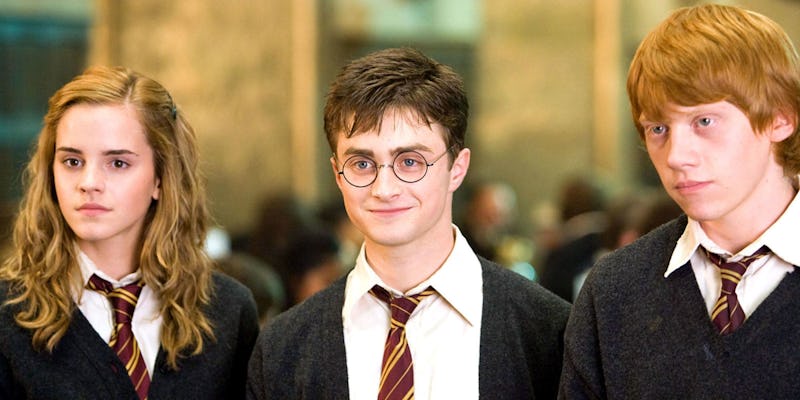 Warner Bros. PIctures
The Harry Potter fandom has been buzzing for months about the upcoming Harry Potter exhibition, opening in October at the British Library. But for those who can't quite make it across the pond, the BBC has announced a companion "Harry Potter: A History of Magic" documentary, set to hit TV screens this fall. You'll be ready for Hogwarts — er, Ilvermorny? — in no time.
In a statement earlier this week, BBC Two introduced their Harry Potter documentary, which will take viewers behind the scenes of the British Library's highly anticipated exhibition. Coinciding with the 20th anniversary of J.K. Rowling's first book, Harry Potter and the Sorcerer's Stone, the exhibition will blur the lines of reality and fiction, displaying ancient manuscripts, rare books, real-life spells and talismans, alongside never-before-seen artifacts from the world of Harry Potter, including items from original Harry Potter illustrator Jim Kay and Rowling's personal collections.
At the heart of the exhibition is a deep-dive into the real-life inspirations for the story of The Boy Who Lived, which has enchanted several generations of readers. For centuries, long before Rowling exploded onto the literary scene, humans have been desperate to find at least a little bit of magic, a tiny hint of the supernatural, within their everyday lives. And as attendees walk through the halls of the British Library, seeing the real-life counterparts to the subjects studied by Hogwarts students, who's to say they won't stumble upon enchantment?
Tickets for the exhibition, which will run from Oct. 20 to Feb. 18, are already on sale on the British Library's website. Adults will be charged 16 Euros, with children four and under receiving free admission and families receiving a 20 percent discount. Because of the high demand (duh), tickets can only be purchased online and will be assigned a specific time slot. Unsurprisingly, the first four days of the exhibition are already sold out, according to the Library's website, as are weekends through the end of the year. But what better way to start 2018 then to completely immerse yourself in magic for a few hours?
The BBC documentary will feature the run-up to the exhibition's opening, going behind-the-scenes at the British Library as the displays are sourced and displayed. Throughout that process, viewers will gain new insight into what constitutes "magic," and the ways in which fantasy and imagination have fueled innovations in the muggle world.
In addition, viewers will be treated to an interview with Rowling herself walking us through the items she'll be displaying and their history. Famous fans (no word on who that list will include) will lend their voices to a number of spells, potions and famous passages, recreating some of our favorite scenes and refreshing our memories on the origin story of Hogwarts.
Though BBC has yet to release an air date, it's expected to hit screens at some point this fall.