An Adults-Only Harry Potter-Themed Halloween Bash Going Down At This Berkshires Hotel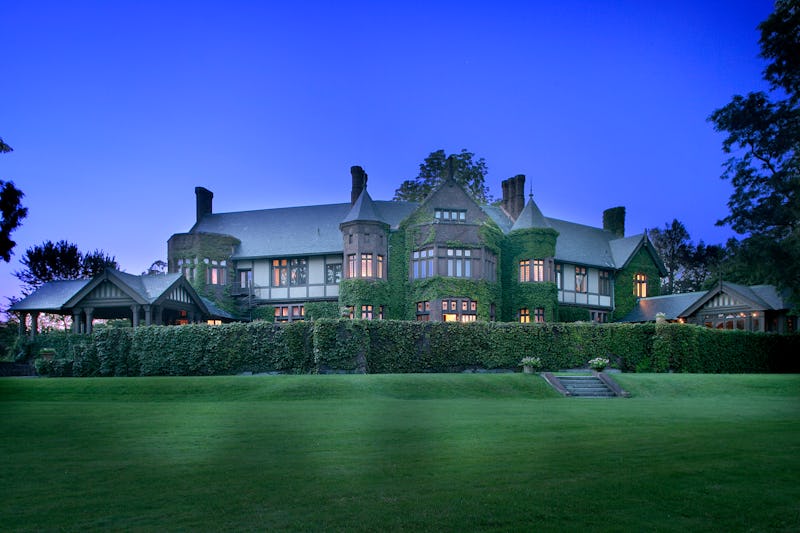 Photo courtesy of Blantyre
When I think of Halloween, I immediately picture the iconic Great Hall at Hogwarts, festooned with floating Jack O' Lanterns and long tables creaking under the weight of candy apples, caramels and other seasonal treats. And for a lucky few Harry Potter fans that spooky season scene is about to come to life IRL. Blantyre, a recently renovated Gilded Age hotel in Lenox, Massachusetts, is hosting an Harry Potter-themed Halloween party on Oct. 27 that is sure to have you believing in magic. Bustle has more details below.
The party, which is for witches and wizards 21 and over only, will be held at the newly reopened Blantyre on Saturday, Oct. 27 from 7:30 p.m. to 11:30 p.m. An $85 ticket will get you cocktails, dinner, and what we expect will be some very "Fred and George rocking out to The Weird Sisters at the Yule Ball"-esque dancing. The Tudor-style mansion and estate was built in 1902, but recently reopened after a massive renovation that gives it some straight-up Hogwarts vibes.
And apparently, John Williams, who composed the iconic scores for the Harry Potter films, is said to have created all his best works near the property. If you weren't feeling the magic in the air before, I bet you are now.
I know, you're probably already counting out your Galleons for this one, but first, here are even more details about the bash: Apart from the usual beer, wine and cocktails that will be available, dinner menu items include Wild Mushroom & Leek Tart, Duck Breast with Black Mission Fig, and Honey Glazed Clove Studded Ham — which, if you ask me, all definitely sound like the sort of decadent meals Hogwarts would churn out for the holidays. The dessert menu is definitely Hogwarts-inspired, with Chocolate Frogs, House Crest Cookies, Golden Snitch Cake Pops, Bertie Bott's Beans, and Chocolate Pot De Creme all making sweet appearances.
If Halloween night at a 5-star resort with a group of your fellow Potter lovers sounds right up your Diagon Alley, you can grab your own $85 tickets to the Oct. 27 event four ways: online, by shooting a message to events@blantyre.com, calling 413-637-3556, or in-person. Though the party is open both to hotel guests and the general public, the $85 fee does not cover transportation or accommodations. If you're planning on spending the night at Blantyre, you can book a room at the hotel for the weekend of the 27th, but it will cost you upwards of $645 a night, depending on the room.