This Is The "Sexist" Quote Young Students In Houston Were Seeing For The Past 5 Years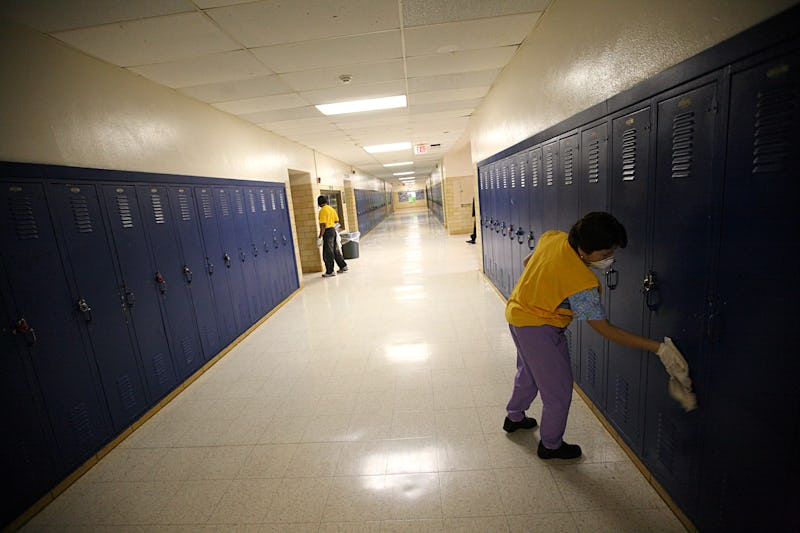 Tom Pennington/Getty Images News/Getty Images
After being called out on social media this weekend in viral tweets, a Houston school removed a "sexist" quote from its walls. Officials from the school district told media outlets that the quote in question was taken down and its wall repainted overnight, a week before school is scheduled to resume.
The quote, which reportedly hung above a row of lockers, read, "The more you act like a lady, the more he'll act like a gentleman," according to the Houston-based ABC station KTRK. Officials told the station that it had been on the wall for five years. Bustle has reached out to the school district for comment.
Over the weekend, one Houston Independent School District (HISD) parent saw a photo of the quote on her friend's Facebook page and asked for permission to share it more widely.
"This is the wall at Gregory-Lincoln Middle School in Houston ISD," tweeted Lisa H. Beckman. "It's perpetuating horrible gender stereotypes, shaming women, and relinquishing boys of all responsibility. It's sexist, mysogonistic [sic], and discriminatory! I'm horrified."
Beckman's children do not attend the school where the quote was on display, CNN reported, but she said she was still concerned.
"It's a bigger problem than just a quote on a wall, it's how women in this country are treated," she told CNN. "My goal by posting it to Twitter was to get the school to take it down before any other children saw it."
Beckman told CNN that the quote was taken down within 10 hours of her initial post. Beckman's tweet went viral over the weekend, with many expressing a similar outrage.
"This is absurd," one user responded. "Exactly why the #metoo movement started. Women should not be held responsible for the way a man chooses to react to her. I've gotten unwanted attention wearing baggy jeans and a huge hooded sweater. A man should be able to have self control no matter what."
Many on Twitter said that they wouldn't take issue with the quote if it encouraged mutual respect without referring to outdated gender role tropes.
"Boys don't have to walk around in fear of women because of what they choose to wear," wrote one Twitter user. "Of course mutual respect is important and absolutely necessary, but the context is wildly different."
In a statement to Houston Public Media, school officials separated themselves from the quote's content. "The quote does not align with HISD values, and it will be taken down," they said. The wall decals were taken down on Friday, they told the outlet, the same day that Beckman shared the image on Twitter.
"The input of our community is invaluable, and we appreciate that this was brought to our attention," HISD officials said, according to Houston Public Media.
The quote has been attributed to a woman named Sidney Biddle Barrows, also known as the Mayflower Madam. Barrows is the founder of an escort service, and, according to CNN, she would use that quote to advise her workers. Now, however, the quote is gone — a testament to just how quickly social media campaigns can sometimes result in action.