This 'Jeopardy' Proposal Even Stumped Alex Trebek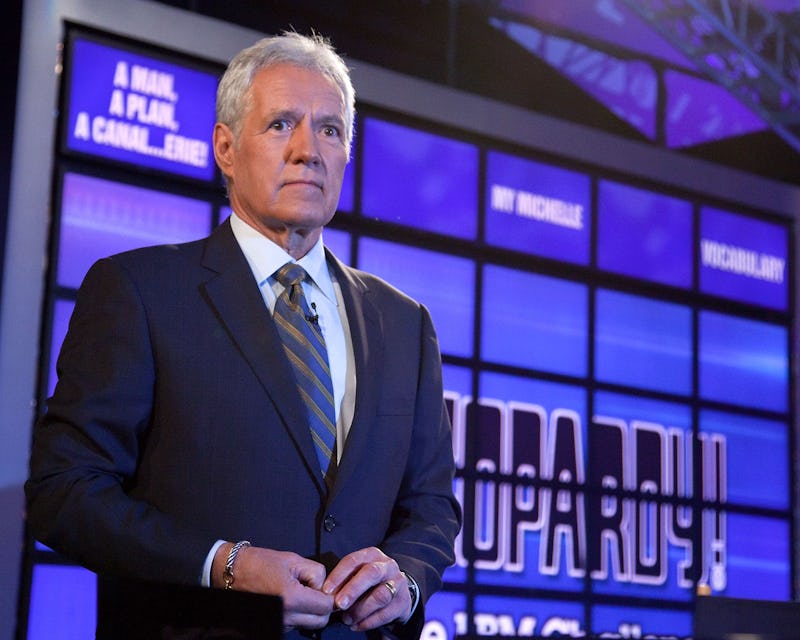 Ben Hider/Getty Images Entertainment/Getty Images
These days, televised marriage proposals are at an all-time high and it's not just on reality TV dating shows. Coming on the heels of the show-stopping proposal during the 2018 Emmy Awards, a Jeopardy contestant proposed to his girlfriend during the Sept. 27 episode of the show.
At first, it seemed like Alex Trebek was doing his normal schtick getting to know the contestants in between gameplay, but then the routine took a turn for the unexpected. Trebek remarked,
"Okay, ladies and gentleman. Normally when I interview the contestants I base my conversation on little bits of information they have supplied us, but with regard to Michael Pascuzzi, from Orlando, Florida, I have absolutely nothing on the card. So, what do you want to talk about?"
The Jeopardy contestant had a lot more on his mind than winning the game, although he probably wanted to do that as well. Pascuzzi told the game show host, "I can fill in for you."
He began, "I just wanted to say one quick thing and ask Maria Shafer right there —" Trebek cut in to ask, "Who is Maria? Where is she?" The camera then cut to Shafer sitting in the audience. Pascuzzi pressed on, saying, "—if she would make me a winner today and marry me." (The answer, of course, was an enthusiastic, "Yes.")
Trebek jumped back into the conversation and joked, "Maria, you responded too quickly. I was about to say 'We'll have the answer to that question right after this commercial break.'" Now that would have been quite the cliffhanger if he actually stepped in to do that. Right after the host's remarks, Shafer must have realized where she was and modified her initial response to comply with the rules of Jeopardy. She answered, "That would be 'What is yes?'" How appropriate!
Trebek made it clear that he was ready to get back into the game play by remarking, "Alright, good for you." And though he may have wanted to return to the competition, the viewers on Twitter just wanted to discuss the engagement.
Thankfully, she said yes to the proposal because that would been a very awkward (and very public) moment if she did not. As one viewer tweeted, "Imagine if she said 'what is can we talk about this later?'"
One Jeopardy fan loved the proposal so much that she even questioned her own, tweeting, "Someone just got proposed to on Jeopardy and never, until now, have I been disappointed in my proposal."
A proposal is always good news, but it is especially heartwarming given all the negative news stories these days. One tweeter wrote, "A #Jeopardy! wedding proposal. Just the wonderfulness needed today." And others agreed that the positive news story was truly just what the day called for.
TV proposals are really a thing these days, but who really started the trend? One Twitter user pointed out, "I was just thinking about what an idiot that guy on jeopardy for proposing to his gf RIGHT after the Emmy proposal then I realized jeopardy was filmed prior.... how pissed do you think that guy is his potential [sic] viral moment was overshadowed?"
What is an adorable way to propose to your girlfriend? Asking for her hand in marriage during an episode of Jeopardy — that's the answer.