John Legend Is Releasing A Christmas Album, So Your Holiday Season Is About To Be Even Better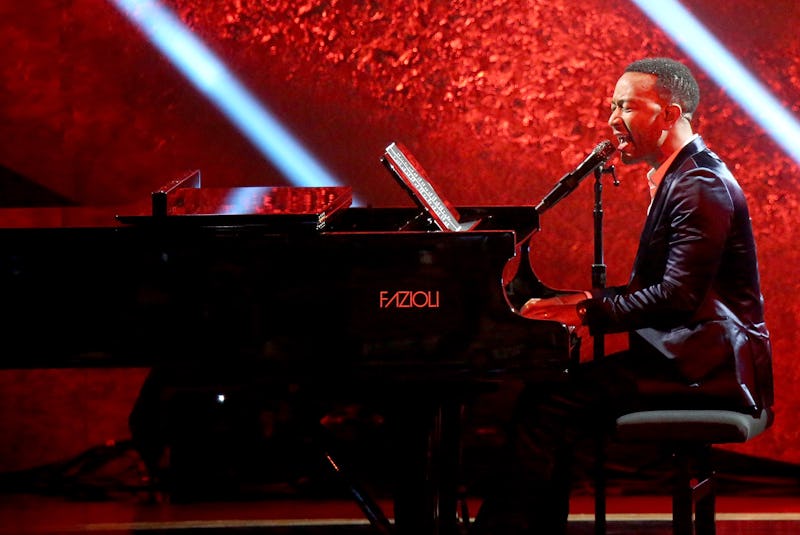 Maury Phillips/Getty Images Entertainment/Getty Images
In the market for some new bangers this holiday season? How about a little yuletide-centric serenading, a la John Legend? Fortunately, you don't have to celebrate Christmas (or any particular holiday, for that matter) to enjoy John Legend's Christmas album, quite appropriately titled A Legendary Christmas. Now, before everyone goes and flocks to Spotify or YouTube to have a listen for themselves — A Legendary Christmas won't see its official release until the end of the month, but fans who'd like to reserve their copy ahead of time can do so through the album's pre-sale site, which also includes information about the record's accompanying tour.
How do we know all this? Legend announced the exciting news via Instagram Monday, Oct. 1, with two back-to-back posts whose accompanying video and photo, respectively, see the musician dressed as a markedly different sort of legend: Mr. Kris Kringle himself. And, if seeing Legend donning full-on Santa Claus garb isn't enough to convince fans this album is a must-listen (though it's probably worth noting here that it certainly should be), then his latest posts' actual content will almost definitely do the trick.
"What's up, everybody? It's John Legend here," he tells the camera, opening the first post's video. In it, the singer pairs a beach-y button up with a professional-grade Santa hat as he expertly unveils the album news and manages to sufficiently tease the upcoming project in the process. "It's sunny Los Angeles in September," Legend continues, while some modern-sounding holiday music picks up in the background. Then, "But I can't stop thinking about Christmas."
Suffice to say, the rest of the new video is sort of a whirlwind. Cut to: Several shots of Legend in the recording studio, crooning his way through a few holiday classics as well as some original music of his own. Per Legend's explanation in the video, A Legendary Christmas will feature a grand total of eight traditional jingles (there's a 30-second sneak preview of his rendition of Have Yourself A Merry Little Christmas on Legend's site right now) as well as eight new ones.
The video throws quite a bit of information fans' way, so Legend got down to the important stuff in the post's caption. "This winter, get ready for A Legendary Christmas!" Legend wrote, before laying out all the necessary details fans need to know about this forthcoming holiday treat, writing,
I have a brand new Christmas album coming out accompanied by #ALegendaryChristmas Tour! You can sign up for pre-sale TODAY only and pre-sale begins tomorrow at 10AM local time.
Everybody got that? As Legend noted in the IG caption's last line, the full list of tour dates, as well as relevant information regarding pre-sale orders, are available through his personal website. (The link in Legend's IG bio takes you right there.) But diehard fans of the acclaimed singer-songwriter might also want to take Legend up on another pre-sale offer, and they might want to do it ASAP.
"There's a limited number of autographed copies of #ALegendaryChristmas available for preorder now," wrote the musician, captioning his second announcement post Monday afternoon. In only a slight departure from his, ahem, festive attire in that first IG video, the second post's main photo sees Legend sporting a Santa hat, a bowtie, and his signature soft smile. Lucky for fans, it also seems to double as A Legendary Christmas' official album cover. Talk about the gift that keeps on giving, no?
So, even if traditional holiday tunes aren't really your thing, who else can't wait to hear what Legend came up with when A Legendary Christmas eventually does see its wide release? Seriously, if any musician is going to redefine the meaning of "Christmas songs" and how we listen to them, it's probably him. Here's to a lot more Legend, and his legendary musical ventures, beneath Christmas trees far and wide this holiday season.