A Labour MP Wants To See Big Changes In Rape Trials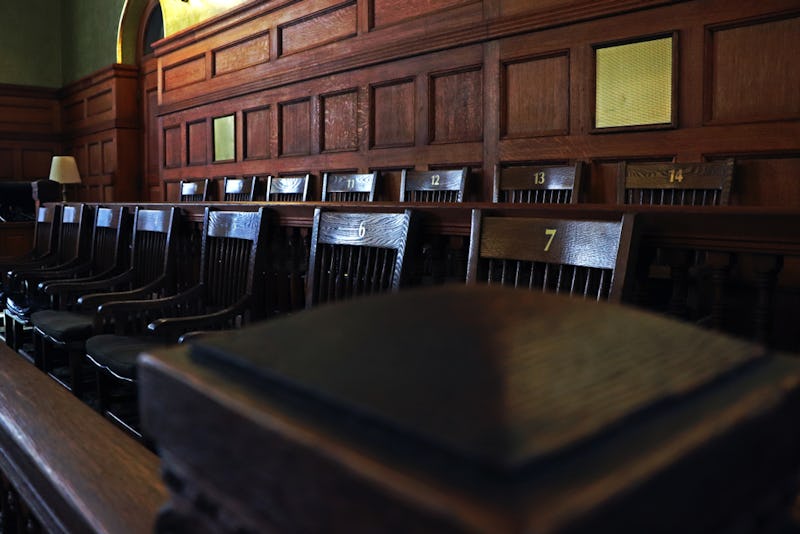 Crazy City Lady/Shutterstock
Earlier this year, the Crown Prosecution Service revealed that under a third of young men prosecuted for rape were convicted between 2017 and 2018. Now, Labour MP Ann Coffey has called for major changes in the process, even suggesting that juries be scrapped in rape trials. Coffey argues in parliament that juries' reluctance to convict young men, as well as the prevalence of rape myths, result in low conviction rates. She told the House of Commons that a "perfect storm is developing" that could prevent rape survivors from speaking out about their abuse.
Stockport MP Coffey described a "dominance of rape myths in our culture," including "that a woman who has drunk a lot cannot complain if she is raped, or that it is only rape if someone has injuries, or that real rapes are done by strangers in alleyways, or it's a crime of passion, or women invite rape by what they wear."
She continued, "A perfect storm is developing where juries are reluctant to convict young men charged with rape, the CPS are therefore reluctant to prosecute, and the police are therefore reluctant to refer. The result of this is that victims will stop coming forward and justice in the criminal justice system will be denied to young women." She suggested that juries were hesitant to convict young men of rape even when they believed them to be guilty.
According to the Independent, Coffey would like to see options including judge-alone trials, judge vetting, and specialist rape courts explored as possible alternatives to jury trials.
A spokesperson for the Crown Prosecution Service said, "Sexual offences are intensely personal and distressing crimes and we take their prosecution extremely seriously. These cases can often be complex to prosecute as they involve very little corroborative evidence compared to other crimes, often resulting in prosecutors having to consider one person's word against another's. In recent years we have increased the number of specialist prosecutors and rolled out additional training."
"The CPS will not hesitate to bring charges where there is sufficient evidence to provide a realistic prospect of conviction and that it is in the public interest to do so," the spokesperson added. The Ministry of Justice has not yet responded to a request for comment.
"The danger is we will be thrown back to the dark days where victims of abuse are silenced and dare not speak out," Coffey said. She called for a "radical" inquiry into the efficacy of juries in rape cases in England and Wales, investigating possible solutions such as jury vetting, pre-recorded cross examination, and specialist rape courts.
Earlier this week, retired judge Sir John Gillen called for a similar review of rape trials in Northern Ireland, suggesting that juries should receive training on rape myths, victims should be offered legal representation, and the explicit expression of consent should be prioritised over a lack of resistance.
In September, the Guardian reported that only 32 percent of rape only trials involving 18- to 24-year-old men resulted in a conviction, according to figures released by the Crown Prosecution Service after a freedom of information request by Coffey. For men between 25 and 59, the prosecution rate stood at 46 percent. In the five years up to 2017-2018, the conviction rate for young men never exceeded a third, with an average of 30 percent of rape cases ending with a conviction.
The age disparity also prevailed in rape cases that included domestic abuse, child abuse, and other offences, with a 35 percent conviction rate for men between 18 to 24 compared to 49 percent for men between 25 to 59. The annual Violence Against Women and Girls report from the Crown Prosecution Service, released the same month, revealed that rape prosecutions overall had dropped to the lowest number in a decade, with 23.1 percent fewer prosecutions in 2017-2018 than 2016-2017. As the Guardian reports, 3,621 were charged in 2013-2014, while only 2,822 defendants were charged in 2017-2018 — but the number of rapes initially reported almost doubled in the same time period.
A spokesperson for the Crown Prosecution Service told the newspaper, "Rape and serious sexual offences can be some of the most complex cases prosecuted by the CPS. We have worked hard in recent years to improve how we deal with these cases."
"Addressing the low conviction after contest rate in cases involving young defendants represents a challenge for the entire criminal justice system. We are working on a number of different fronts to improve performance in this area," the spokesperson continued. "This includes early liaison with police prior to making charging decisions, and providing specialist training for prosecutors on consent, myths and stereotypes, and cases involving vulnerable witnesses and young people."
On Twitter, Coffey said she anticipated the results of an ongoing study by the UCL Jury Project, directed by Professor Cheryl Thomas, into the impact of rape myths on jurors. "I absolutely accept that the justice system needs to deliver justice and that means that the innocent go free and the guilty are sentenced," she told the House of Commons. "But my concern at the moment is that the conviction rates indicate that the scales of justice are tipped against the victim."
While there is support for Coffey's suggestion, there are also those who believe the scrapping of juries would do little to help boost rape conviction rates. Hannah Quirk, a reader in criminal law at Kings College London, wrote in the Guardian, "There is, however, no evidence to suggest that dismantling defendants' right to a jury trial would improve matters, and doing so could cause serious harm."
She continued, "The new director of public prosecutions, Max Hill, has explained the drop in prosecutions as part of an attempt to improve the quality of cases pursued – there is no evidence that juries are wrongly deciding cases."
It's a complex issue with strong opinions on both sides. What is clear, however, is that any changes to the way in which rape trials are conducted in the UK will require careful consideration before they are implemented.