A 'Little Woman' Graphic Novel Is Coming & It's Way More Diverse Than The Original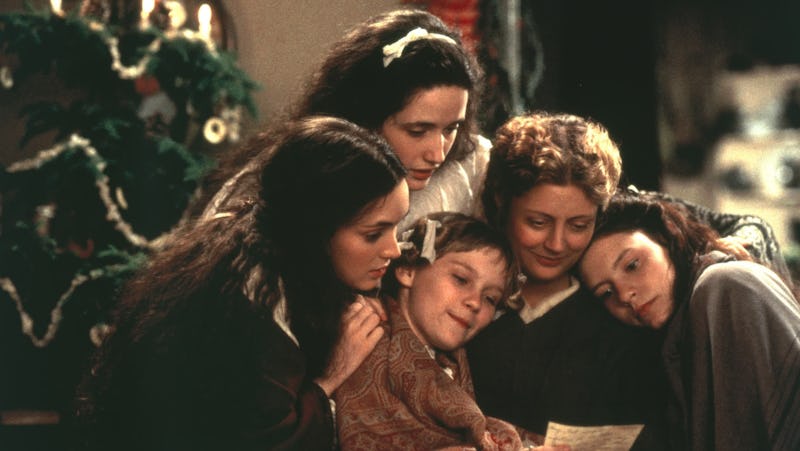 Columbia Pictures
For a century and a half, Little Women has been adored by young girls who could see themselves in one of the four March sisters. Now, a whole new generation will be able to experience that remarkable feeling of being seen and understood, because Louisa May Alcott's classic novel is getting a graphic novel makeover, and the changes will resonate with a broad and diverse range of modern readers.
In honor of its 150th anniversary, Little Women is being adapted into graphic novel form, according to Entertainment Weekly, who shared an exclusive sneak-peak of the upcoming project on Tuesday. Written by Rey Terciero and drawn by Bre Indigo, Meg, Jo, Beth, and Amy is a modern retelling and redrawing of Alcott's classic novel in which the March sisters are reimagined as a group of diverse young women who better reflect the reader's of today. In this updated version, Meg, Jo, Beth, and Amy are part of a blended, multi-racial and LGBTQ inclusive family living in modern day Brooklyn. Like the original novel, their father is away at war, and their mother struggles to keep her family out of poverty while he's gone.
Meg, Jo, Beth, and Amy is first being released as an online serial comic from Tapas Media. The first online episode will be available Wednesday, March 6, and subsequent episodes will be released each week. In November, Little, Brown Books for Young Readers is releasing a completed paperback and e-book edition of the graphic modern retelling.
Like millions of other readers, the author and the artist of Meg, Jo, Beth, and Amy were fans of Little Women growing up. Taking on the responsibility of recreating it was a huge honor, according to Terciero who said in a statement about the project that he and Indigo "wanted to see ourselves in the characters too, which is why we made the family diverse and one of the characters LGBTQ."
One way the graphic novel creators accomplished their goal was by exploring the story of Jo March, whose original narrative had "subtext that may not have been available 150 years ago, but that we can speak openly about these days," according to Terciero. "Being LGBT myself, I'm just happy to be creating a book that I wish I could have read as a young reader."
Beyond race and sexuality, this modern day retelling of Little Women plans to tackle many of the other issues facing modern young women growing up in today's world. According to the comic's description on Tapas Media, the re-envisioned March sisters will also come face-to-face with bullies, first loves, serious illness, and the everyday trials and tribulations of growing up in a house full of women. Along the way, Meg, Jo, Beth, and Amy will discover who they are, who they want to be, and where they belong, in the world and within their own family.
"Meg, Joe, Beth, and Amy have so much in common with today's youth and hopefully when young readers pick up the book they can find themselves in the girls and apply their growth to their own lives," said Indigo, the comic's artist and the creator of "Jamie," a popular queer coming-of-age webcomic. "My personal goal as an artist is to help others to embrace empathy, to relate to one another and grow as individuals. And I think our book does just that."
The countdown is officially on until first online issue of Meg, Jo, Beth, and Amy hits digital stands Wednesday on Tapas. If you wait can't wait to see what the new and improved March sister look like, then head over to EW and check out an exclusive look at art from the comics, character sketches, and an excerpt panel now.