There's A Live-Action 'Kim Possible' Movie In The Works & Here's The Sitch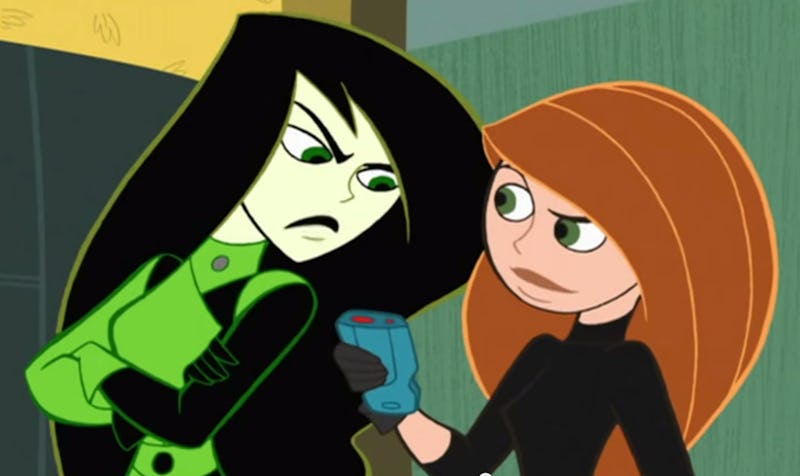 Disney Channel
Although she lived in a time when beepers and pagers were so ubiquitous that they were referenced in her theme song, Kim Possible helmed one of the best Disney Channel shows of all time. Hence, the news that a live-action Kim Possible movie has begun casting at the Disney Channel should delight all fans of early '00s Disney shows. It's a brand new medium for the teen hero, who has previously only been seen in animated form, and a brand new adventure for the spy, who last graduated high school after fighting off alien warriors with her beloved childhood friend-turned-boyfriend Ron Stoppable. Seeing what Kim, Ron, Wade, and Rufus — as well as infamous villains like Shego and Dr. Drakken – are up to after all these years should be a blast.
According to a press release, the film will be called What's The Sitch? The title comes from one of Kim's many catchphrases, this one typically used whenever she was messaged by 10-year-old genius Wade Load about her next mission or a new gadget. Executive Vice President of Original Programming for Disney Channels Worldwilde, Adam Bonnett, said of the film:
"Although Kim Possible 'can do anything,' kids and tweens found that this animated redhead was just like them. As we embark on the fun challenge of making Kim and Ron fully dimensional, I'm thrilled to be working again with [series creators] Mark [McCorckle] and Bob [Schooley] and to welcome the addition of a dynamic creative team – Josh [Cagan], Zanne [Devine], Adam [B. Stein], and Zach [Lipovsky] – into a world where anything is indeed possible."
However, there's very little information about the movie beyond that, except that casting has begun 16 years after the character's debut and a reminder that the series was "lauded for its empowered female role model who uses her brain, heart and expertise to save the day." So whatever sitch it is that Kim is coming out of college to deal with is a mystery, but it's sure to be a big one.
Kim Possible aired on Disney Channel from 2002 to 2007. In it, Middleton high school student Kim, the daughter of a rocket scientist father (James) and a brain surgeon mother (Ann), spent most of her time juggling school, cheerleading, boys, friends, her annoying twin genius brothers ("the tweebs") Jim and Tim — oh, yeah, and her various missions. But she wasn't an official spy until the later seasons; instead, she was a "freelance troubleshooter."
To make some money, Kim had put together a self-titled babysitting website promising that she could "do anything." Her first customer had been trying to contact the actual hero team Team Impossible and hit Kim's website instead — but she proved up to the job. From that successful first mission, Kim built up an international network of contacts and traveled worldwide to fight dangerous baddies for governments, royalty, and everyone in between. She was joined in all her missions by her best friend from preschool, Ron Stoppable, and Ron's pet naked mole rat Rufus.
So, basically, the show was like Buffy the Vampire Slayer for a younger set — and without the vampires — and was equal parts action, adventure, supernatural, and feminist fun.
Especially since, romance with Ron aside, Kim was defined by her complex relationship with other female characters, too. There were her clashes with frequent archvillain Shego, the two women evenly matched to the point of respecting one another's skills and even becoming best friends in one memorable episodes. There was her rivalry with fellow cheerleader Bonnie Rockwaller, another antagonistic bond that was underscored by several deep moments of respect and tenuous friendship. There was her friendship with Monique, her other bestie aside from Ron who appeared less frequently but was no less loyal to Kim. Plus, there were generations of Possible women performing amazing acts of heroics that gave Kim female role models to look up to.
So, basically, fans should be hyped that a live-action version of the series is coming our way. There's no such thing as too much Kim Possible, and, if nothing else, we deserve an updated version of that "Call me, beep me, if you wanna reach me" theme song.