Prosecutors Say A Man Shot At Several Female Drivers Because He Hates Women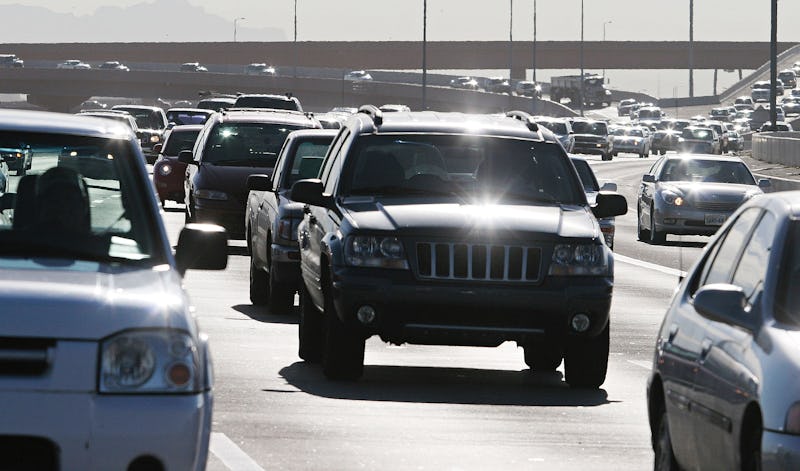 Jeff Topping/Getty Images News/Getty Images
Local authorities allege that a Texas man shot women while they were driving. The man has been charged with multiple counts of aggravated assault with a deadly weapon after police in Harris County linked him to at least two different shootings that targeted female motorists. Bustle has reached out to the suspect's attorney, Kenneth Mingledorff, for comment.
According to court documents, investigators with the Harris County Sheriff's Office have alleged that Nicholas D'Agostino shot at a woman "without provocation" while she was pulling into a carwash in Katy, Texas, on July 10, "causing serious bodily harm." That woman told investigators she heard a noise while pulling into the car wash and looked over to see her driver's side window cracked. Although the woman initially thought it was a rock that cracked her window, she later saw blood on her arm and realized she'd been shot, according to court documents.
In speaking with the suspect following his arrest, police said he "admitted to discharging his firearm at other vehicles on approximately five other occasions." That's how, just days after he was released on bail for charges related to the July 10 attack, authorities were able to link him to another shooting.
The suspect was arrested and charged Thursday for his alleged involvement in a March 7 incident. In that incident a woman told police she was driving away from a gas station when she heard a loud noise and felt pain in her right arm just before noticing a man drive by looking at her as if checking to see if he'd hit her.
In both cases, court documents show the suspect claimed he'd shot the women in self-defense, claiming they'd swerved into his lane.
Yet while the suspect has claimed self-defense, investigators have said it appears as if his motivation stems more from the "very dim view of women" they claim he possesses. In court documents, investigators noted that the suspect "randomly selects female motorists and fires into their vehicle" and had made multiple social media posts in which he "rants and rambles on about female motorists and how incompetent they are and that their sole purpose is to give birth to male children."
Bustle has reached out to both the Harris County Sheriff's Office and the Harris County District Attorney's Office for comment.
Mingledorff, the suspect's attorney, told The Washington Post in a statement that investigators' allegations regarding his client's hatred of women were assumptions. "There's a lot being said," Mingledorff told The Post. "Nobody knows that for a fact. I've seen no evidence of that at all. A lot of assumptions are being made, and we'll work through all that." Mingledorff also reportedly told the paper that his client needed "psychological help."
When the suspect was put back in jail on Thursday — just three days after he'd been released on a $75,000 bond for charges related to the July 10 incident — prosecutors asked for a significantly higher bail. In court documents requesting bail be set no lower than $250,000, prosecutors argued that authorities believed the suspect was "a continuing threat to the community and, in particular, to female motorists."
According to ABC13, the suspect's initial $75,000 bond was revoked and a new bond of $200,000 for each charge was set. He is expected to return to court in September.