A Marines Plane Crashed In Rural Mississippi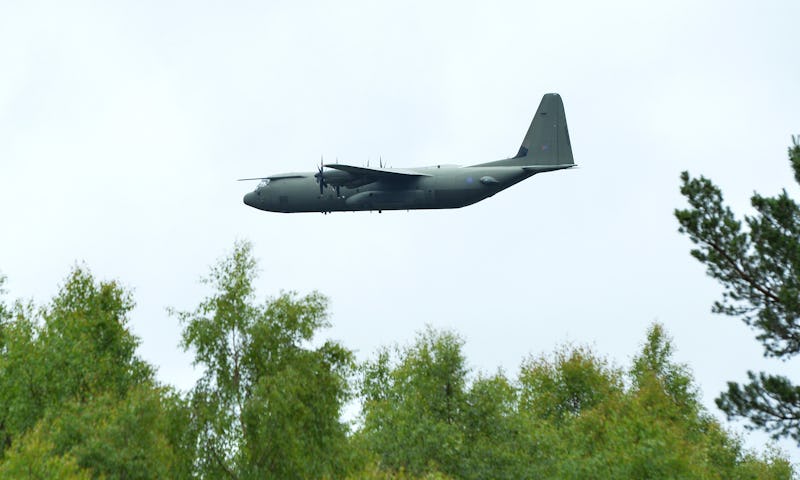 Mark Runnacles/Getty Images Sport/Getty Images
A military plane crash in a soybean field in western Mississippi left 16 people dead Monday evening, the Associated Press reported. Although the names of the dead have not yet been released, messages of condolences from officials indicate that, among the 16 bodies recovered, a unit of marines were killed in the crash.
The United States Marine Corps (USMC) tweeted late on Monday that a "mishap occurred" involving one of its planes, a USMC KC-130. In replies to the tweet, it confirmed it was talking about the crash in Mississippi but also stated that "further information [would] be released as available." Later, Fred Randle, county emergency management director for Leflore County, Mississippi, confirmed that all 16 of the victims were on the plane and that there were no survivors. Randle later told the Associated Press that the cause of the KC-130 refueling tanker's crash wasn't known as of Monday night and that the USMC confirmed that it was its plane but didn't state where the flight came from or where it was headed.
Local outlets have reported that the plane crashed in Leflore County (a rural county in western Mississipi) off of Highway 82 Monday afternoon. Investigators speaking to Jackson, Mississippi, TV station WLBT said that they believed the plane exploded in mid-air, as they found debris on both sides of the highway. First-responders and emergency workers were also wary of ammunition on the plane, according to a Mississippi State Trooper who spoke to Memphis station WMC-TV.
Following the initial reports, several state and federal politicians and officials have already given statements of condolences following the crash. Tennessee Rep. Steve Cohen tweeted out condolences, writing
So sorry to learn of 16 Marines losing their lives while serving our nation. My heart goes out to their families, friends and fellow Soldiers.
Mississippi Gov. Phil Bryant commented on the incident in a statement on his Facebook page:
Please join Deborah and me in praying for those hurting after this tragedy. Our men and women in uniform risk themselves every day to secure our freedom.
Secretary of the Interior Ryan Zinke, who also served as a Navy SEAL, tweeted: "Please join me in praying for or sending good thoughts to the families and unit of the Marines we lost tonight in the C 130 crash," using the hash-tag "#semperfi" — the USMC's motto which means "always faithful."
There were conflicting reports early on as to how many people were killed as first responders began to recover bodies from the crash site. As the story is still developing, as of late Monday night, not much else is known about the victims of the crash.