A Far-Right Protest At Maxine Waters' Office Totally Failed Because No One Showed Up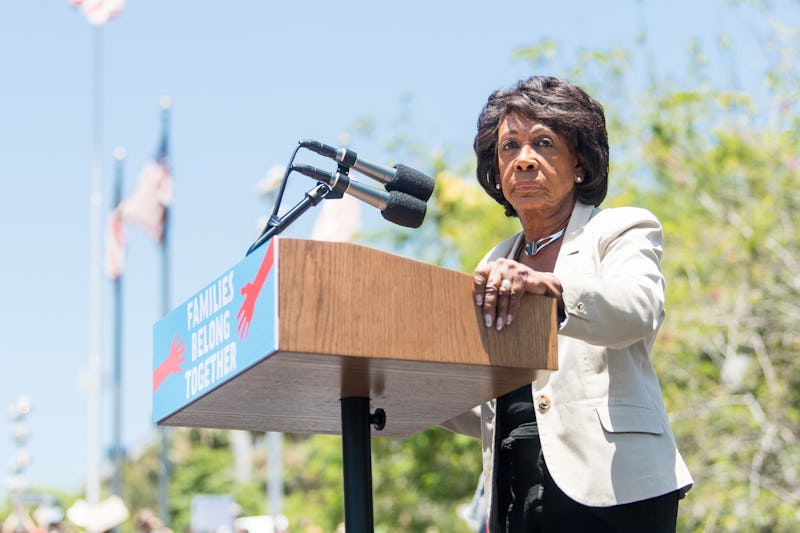 Emma McIntyre/Getty Images Entertainment/Getty Images
Members of a far-right group failed to show up for their own protest Thursday, leaving counter-protesters to rally alone in support of a California congresswoman. While the Oath Keepers were a no-show, dozens of supporters and counter-protesters gathered outside Rep. Maxine Water's Los Angeles office to counter the self-styled militia group's planned protest. But despite the lack of far-right protesters, confrontations still occurred.
An estimated 50 to 100 people showed up outside Waters' office in hopes of countering the Oath Keepers' planned far-right protest. Bearing anti-Trump banners and, in one case, a sign that read, "Don't Mess With Our Queen Maxine," counter-protesters milled about on the sidewalk and in the streets, with some burning an American flag they'd ripped off a truck after spitting and throwing eggs at the vehicle's driver and passenger, The Guardian reported.
Outraged over Waters' calls for peaceful protests against members of the Trump administration, the Oath Keepers had issued a "call to action" to members earlier this week. "This is the launch of an ongoing protest that may go on for several weeks," the group said. They urged California-based members to gather outside Waters' district office to protest what they called her "incitement of terrorism" and to make "a stand for ICE and the Border Patrol."
News of the Oath Keepers' planned demonstration sparked calls for counter-protests, even as Waters asked counter-protesters not to show. In a statement released earlier this week she urged supporters "to not be baited into confronting the Oath Keepers with any demonstrations in opposition," claiming that "such an occurrence would only exacerbate tensions and increase the potential for conflict."
"The Oath Keepers have a history of engaging in violence and provocative behavior," the congresswoman said. "The group is known to protest in military-style clothing while carrying various assault weapons. The Oath Keepers would like nothing more than to inflame racial tensions and create an explosive conflict in our community."
Despite her disagreements with the group's values, Waters went on to stress their right to peaceful protest and civil dissent. "All groups and individuals have the right to assemble and express their opposition to public officials and public policies," she said.
On Thursday, dozens of counter-protesters showed up, although they found themselves without a protest to counter as no one from the Oath Keepers showed up. According to the Los Angeles Times, police said they'd reached out to the Oath Keepers and the group had told them it had opted not to follow through with plans to protest in an effort to keep the peace.
Inspired by reports of restaurant-related protests against Homeland Security Secretary Kirstjen Nielsen and White House Press Secretary Sarah Huckabee Sanders, Waters had previously encouraged people to keep pushing back on individual members of the Trump administration through similar peaceful protests and verbal confrontations. "If you see anybody from [Trump's] cabinet in a restaurant, in a department store, at a gasoline station, you get out and you create a crowd and you push back on them, and you tell them they're not welcome anymore, anywhere," she had said.
But her comment sparked bipartisan criticism and debate over the need for civility, with President Donald Trump launching a Twitter attack against her. Waters was eventually forced to cancel at least two public appearances due to death threats after Trump warned her to "be careful."