The Migrant Girl Recorded Sobbing In A Detention Center Was Finally Reunited With Her Mom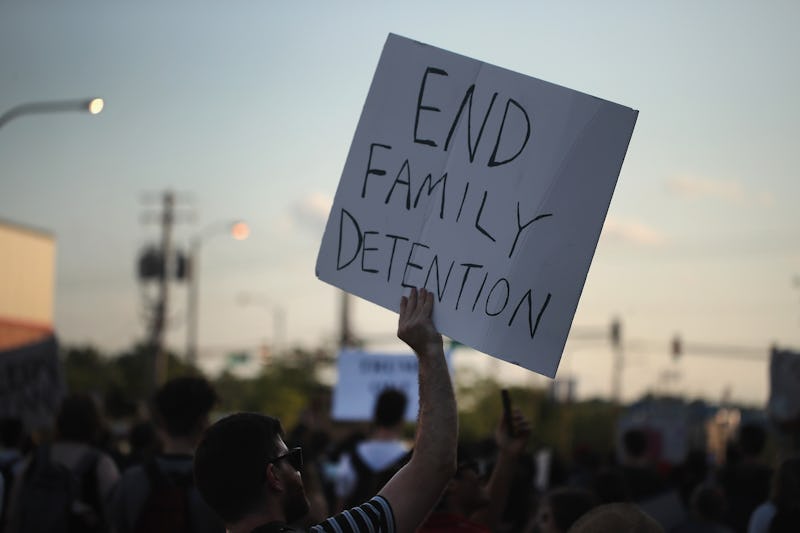 Scott Olson/Getty Images News/Getty Images
On Friday there was finally some good news. The girl from ProPublica's audio of a migrant detention center — who can be heard sobbing on the recording after being separated from her mom — has been reunited with her mother one month after being ripped from each other's arms. The 29-year-old mother, Cindy Madrid, and 6-year-old girl, Alison Jimena Valencia Madrid, reunited early Friday morning at the Houston airport.
Madrid and Jimena walked out of the airport hand in hand at about 3 a.m., according to ProPublica reporter Ginger Thompson, who published the original heartbreaking audio of children who've been separated from their parents. The pair got into a van with Jimena sitting on Madrid's lap and beaming, according to Thompson.
ProPublica reported that their reunification was a "whirlwind." On Thursday evening, Jimena was removed from a Phoenix shelter at dinner time and flown to Houston. She then stayed up all night with a coloring book in Terminal A of the airport. Madrid was released from detention in southern Texas on Wednesday evening, according to CNN. She was unable to fly to Houston, so her lawyer drove six hours to the airport.
Madrid's lawyer said that the girl had what ProPublica described as "a bit of an emotional meltdown" when she first saw her mom.
In an earlier interview, about a week before they would be together again, Madrid said they had only ever been apart for days before the separation. "In six years, I had only been away from her for two nights," Madrid told ProPublica. "And each time, she made me promise never to be away from her again. She hated it. We are incredibly close."
Madrid and Jimena's story — bolstered by the audio of Alison crying at U.S. Customs and Border Protection facility and repeating her aunt's phone number over and over — crystalized the effects of the Trump administration's zero-tolerance policy. The policy did not codify separating families, but rather treated all illegal entries into the country as a criminal offense. Because children couldn't go to jail with their parents (who were now being charged with criminal instead of civil offenses), they would go into the custody of U.S. Department of Health & Human Services (HHS). The Associated Press reported that more than 11,800 children (as young as few months to as old as 17) are being sheltered in about 90 facilities across the country, from California to New York.
For Madrid and Jimena, their story is far removed from the price points of operating a child detention shelter. The Salvadoran immigrants came to the U.S. to seek asylum.
In an affidavit shared with ProPublica, Madrid wrote that she brought her daughter to American after a gang leader in El Salvador shot and killed her boyfriend. Madrid was walking with him and holding his hand when her boyfriend was killed. The gang member reportedly threatened to kill her, but she reported the murder to police anyway, according to ProPublica.
Weeks after his murder, the gang leader approached Madrid in the market and threatened to kidnap Jimena if he ever saw them around. "We didn't leave the house after that," Madrid told ProPublica. "When a gang member says something like that, they are not playing around. We were terrified."
It was after that at Madrid decided to bring her daughter to the U.S. where Madrid has sisters and nieces. They were separated at the border on their second trip north and first time reaching the U.S.
"It was a long, hard trip," Madrid told ProPublica. "But Jimena behaved really well. All her cousins are in the United States. She was really happy about coming to live with them."