A Migrant Teen Ran Away From Casa Padre & Officials Aren't Sure What Happened Next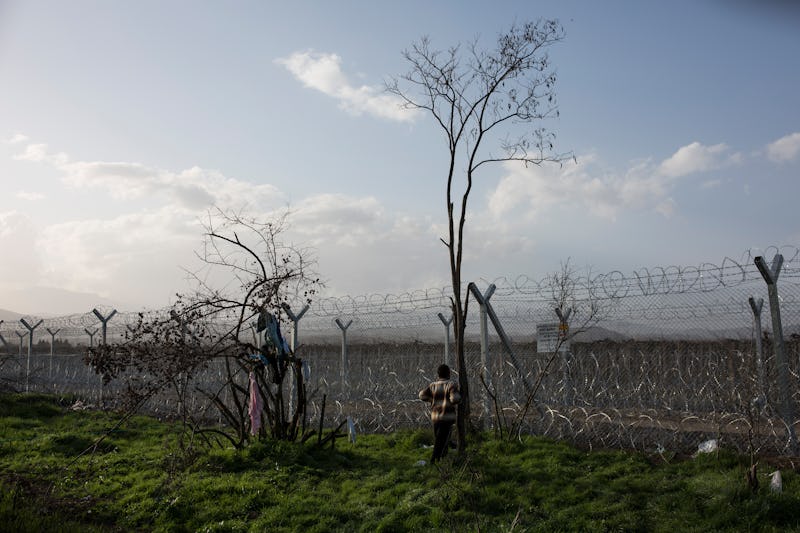 Dan Kitwood/Getty Images News/Getty Images
As the Trump administration houses a growing number of migrant children, it continues to run into oversight problems. On Sunday, after being held for dozens of days, a migrant teen ran away from Casa Padre in Texas, and was reported missing by Brownsville law enforcement officials, according to CNN.
Brownsville police said officers responded to the Casa Padre location, the largest migrant children's care facility in the United States, after the facility reported that a 15-year-old boy had run away, according to CNN. The teen was reportedly an unaccompanied and undocumented minor who had been in the facility for 36 days. The nonprofit that oversees the facility, Southwest Key Programs, also confirmed that a teenage boy had left the center on Saturday, CNN reported. A U.S. Health & Human Services official verified that a boy ran away as well, but what happened to him afterward was unclear; the official could not give any definitive details on the circumstances surrounding the teen after that. Law enforcement officials said they searched the immediate area and the surrounding waterways for the boy but could not find him.
"As a licensed child care center, if a child attempts to leave any of our facilities, we cannot restrain them," Jeff Eller, a Southwest Key Programs spokesman said, according to CNN. "We are not a detention center. We talk to them and try to get them to stay. If they leave the property, we call law enforcement."
Though the teen was classified as unaccompanied, he seemed to have contacts in Texas. According to an unnamed source with CNN, a man in Dallas had claimed to be the boy's father, but during the reunification process, authorities found that the man may not actually have been the boy's biological parent. The teen took off from the facility as officials were trying to untangle the connection between the man and the 15-year-old, per CNN. Still, officials may have figured out what happened to the boy — the man claiming to be the father apparently told CNN's source that the teen had called him to say he had crossed the river back into Mexico. CNN's source added that the boy was alive and would be receiving money from the man claiming to be his father so he could make the journey back to Honduras.
More than 1,400 undocumented boys are being held in federal custody under Casa Padre's roof, according to The Washington Post. Many are teens who came into the United States alone, though dozens are younger children who were forced away from their families at the border. Children are actually allowed to leave the care facility at any time they wish, according to CNN's report, but when they do, the Office of Refugee Settlement has to be notified. Out of the more than 19,000 children under Southwest Key Program's watch this fiscal year, fewer than 50 kids have elected to walk out of the center by themselves, according to CNN's source. Law enforcement officials have since filed the teen's information into the database for missing children, but because of his status as an unaccompanied, undocumented migrant child, he would be placed with the Department of Homeland Security and Office of Refugee Resettlement if found, CNN reported.
In return for their services housing migrant children, Southwest Key Programs has received more than $807 million in federal grants over the past three fiscal years, according to CNN, but that number is likely to rise dramatically. After the Trump administration revealed their zero-tolerance policy on immigration, Southwest Key Programs' compliance director said to CNN that the average number of people in each shelter alone shot up by almost 300 in under a month.
If the teen is out of the country and on his way to another nation, then it's unlikely anything else will come of his reported absence. Government officials have a burgeoning crisis at home, and it's one that will require all hands to shape a policy that will alleviate public furor.