Russia Has Violated A Major Treaty — REPORT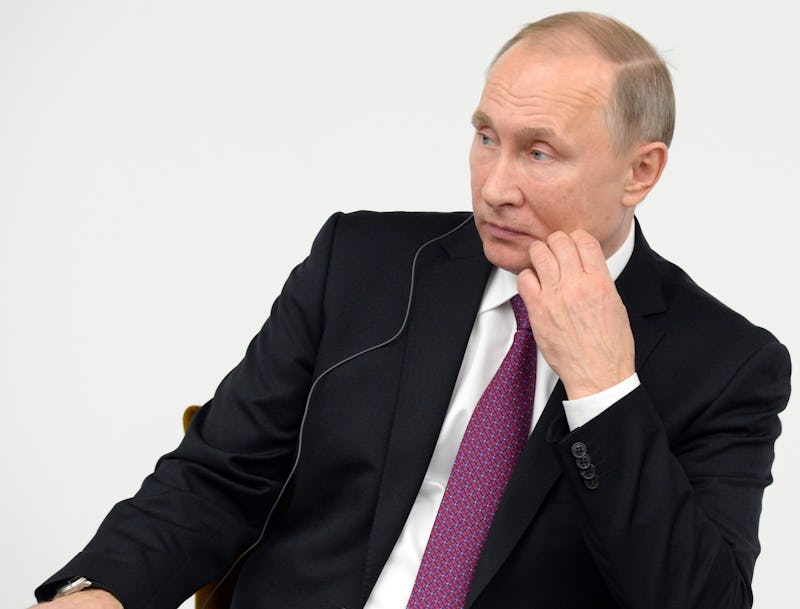 Pool/Getty Images News/Getty Images
According to a report in The New York Times published Tuesday, Russia has secretly deployed a cruise missile, violating a 1987 treaty with the United States. The treaty, which prohibits the United States and Russia from utilizing "intermediate-range missiles based on land," as The New York Times noted, is seen as a critical agreement that help lead to the end of the Cold War. In 2014, the Obama administration had warned Russia about proceeding with the development of the missile, noting that such a weapon breached the treaty, according to the report. Now, it appears Russia has ignored those objections and moved from development stage to having two fully functioning battalions of the "prohibited cruise missile."
The discovery of the cruise missile deployment comes at a time when the relationship between the United States and Russia is almost more ambivalent than tense. Less than 24 hours before The New York Times broke this story, Donald Trump's National Security Advisor, Michael Flynn, resigned. Flynn has been a source of controversy and distraction for the Trump administration over the past few days, after a report last week in The Washington Post indicated Flynn had discussed then-President Obama's sanctions on Russia with the Russian ambassador in December — while Vice President Mike Pence and other administration officials claimed he hadn't. In his resignation letter, Flynn said he was stepping down for giving "the vice-president-elect and others with incomplete information regarding my phone calls with the Russian ambassador."
Shortly before his eight years as president came to a close, Barack Obama imposed new sanctions on Russia and expelled 35 diplomats over the country's interference in the U.S. presidential election, according to administration officials and reports from the intelligence community.
However, Donald Trump had a noticeably more positive relationship with Russia during the campaign and encouraged the country to hack the emails of his opponent, Hillary Clinton. Moreover, after Russia did not retaliate in response to Obama's sanctions, Trump tweeted that Putin was "very smart." A few days later, on Jan. 4, Trump appeared to encourage skepticism and doubt surrounding the U.S. intelligence reports on Russia, tweeting "The 'Intelligence' briefing on so-called 'Russian hacking' was delayed until Friday, perhaps more time needed to build a case. Very strange!"
A week later, Trump admitted that there was evidence that Russia had hacked the Democratic National Committee emails during the presidential campaign.
With Russia reportedly violating the 1987 treaty, the president will now have to decide how to proceed in its relationship with Russia. As The New York Times report noted: "It is very unlikely that the Senate, which is already skeptical of [President Putin's] intentions, would agree to ratify a new strategic arms control accord unless the alleged violation of the intermediate-range treaty is corrected." Trump may be forced to take a harsher line against Putin and the Russian government.