A Missing Dog Returned To Its Family After 10 Years & I'm Not Crying, You Are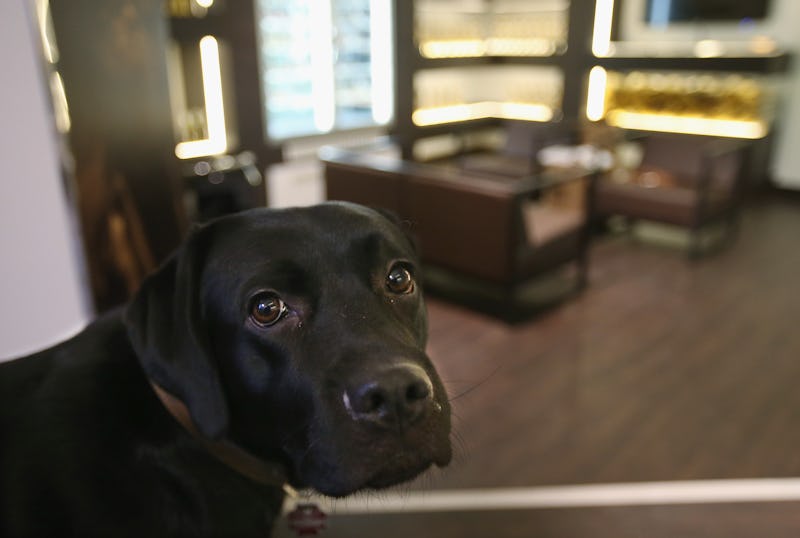 Sean Gallup/Getty Images News/Getty Images
If your pet has ever gone missing, you know it doesn't always result in a Disney-movie ending. However, get ready to have your faith in humanity restored because this missing dog came home after 10 years. ABC News reported this week that a dog named Abby ran away from her home in Apollo, Penn., in 2008. After months of searching with no leads, Debra Suierveld and her family came to terms with the realization that Abby had likely crossed the rainbow bridge, because you know that all dogs go to heaven.
But, that's not how the story ends. According to ABC News, last month — nearly 10 years later — the family received word that Abby had turned up on someone's porch 10 miles away. After the pooch was scanned for a microchip, Abby was reunited with her family after a decade away. According to ABC News, another family had clearly taken excellent care of Abby over the years before she apparently wandered off again, perhaps in search of her original family. Even more heartwarming: Abby totally remembered her first fur-ever family, and everything they had taught her as if no time had passed.
"She would lie on the floor and cross her paws, and she remembers my daughter's commands, and she remembers the commands I taught her," Suierveld told ABS News affiliate KDKA-TV.
I'm not crying, you're crying. (OK, I'm crying too.)
If you're a pup parent and your dog has ever wandered off, then you're familiar with the all-consuming feelings of terror and helplessness that descend while you're furiously looking for your dog. I've had this happen to me a few times. Once, my beagle got out of the yard. As I was crying and printing out posters, while wondering how I was going to tell my then boyfriend that I had lost our dog, the mailman knocked on the door with my beagle in tow. You better believe that my hero mailman got a really big hug.
Suierveld and her family got the same happy ending, only 10 years later, proving that sometimes the cliché "good things come to those who wait" is true. "She kind of came back from the dead," Suierveld told the Tribune Review. "We mourned you," Suierveld reportedly said to the dog. Because Abby had long been declared dead, when Suierveld's veterinarian received word that she had been found, they thought it must be a mistake.
"They actually had the pet listed as deceased," medical manager of Animal Protectors Jody Berisko, who took custody of Abby after she was found and contacted the vet listed on Abby's microchip, said. "They thought I was crazy."
Despite it being clear that Abby hasn't been on her own for the past 10 years, no one had reported her as having been found in an effort to locate her owners, the Tribune Review reported. It's common for people to take in missing dogs and keep them if they can't find the owners.
While Suierveld told the Tribune Review that she was upset that microchipping Abby didn't result in her immediate return, she now has a different opinion because the microchip did eventually bring Abby home after all. Aside from microchipping your pet, a collar with tags that contain your name and phone number can also increase your chances of being reunited with your lost pet.
Additionally, you can also get a smart collar with a built-in tracking device that synchs with an app so you can find your dog if it wanders away. It's kind of like "find my iPhone" for pets until dogs actually learn how to use the phone. Additionally, I'm sure many people are wondering if Abby still answers to her original name because she was likely called something else for the past 10 years — and to that, according to ABC News, Suierveld said that she does.
OK, excuse me while I go and cry some more. Because, dogs.