Your Favourite Podcast Might Just Become An Actual TV Show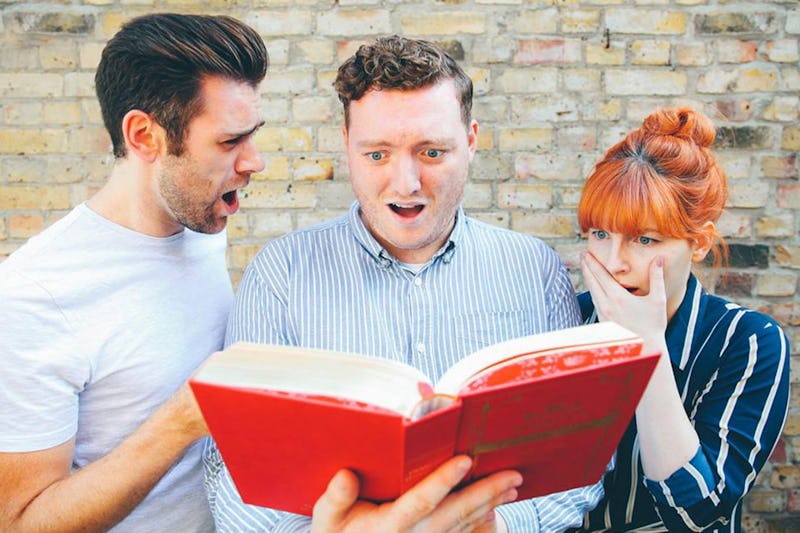 My Dad Wrote A Porno
My fellow Belinkers, Belinda Blumenthal and her pots, pans, and pomegranates could soon be coming to a television near you. My Dad Wrote a Porno, a.k.a. the podcast that frequently has me laughing out loud on a silent tube, and its crew were recently at the Edinburgh International Television Festival and dropped major news amidst the cheesy erotica chat. It turns out that a My Dad Wrote A Porno TV show is currently in the works. Even though the cast and crew weren't forthcoming with details, you can bet I'm stupidly excited to watch Rocky Flintstone's masterpiece become a reality.
Update: On Monday 27 August HBO confirmed that they would be bringing My Dad Wrote A Porno to TV as a comedy special in 2019.
Earlier: If you've never had the pleasure of listening to the podcast, My Dad Wrote a Porno revolves around three close friends: James Cooper, Jamie Morton, and BBC Radio One's Alice Levine. Back in 2015, they discovered that Morton's father — a regular bloke who I envision wears a sweater vest — actually moonlights as self-published erotica author Rocky Flintstone.
After discovering his books online, they began recording dramatic readings of his erotic series Belinda Blinked. Starring saleswoman Belinda Blumenthal, it's a tale about one woman's climb up Steele's Pots and Pans' career ladder and the sexually charged business meetings she has along the way.
Cooper revealed at one of the Edinburgh panels that the Porno crew had been chatting to a few networks both in the UK and United States about creating a television adaptation. The talks seem to have finally materialised as Deadline reported Cooper saying, "We're doing something for TV in the U.S."
According to Deadline, the British podcasters revealed that they initially tried to make a pilot for UK audiences, but it didn't pan out. Now that it could be a reality in the States, what can fans expect? According to The Telegraph, Cooper mentioned that they were toying with the idea of doing a musical or animated version of the now infamous saga, which sounds absolutely wild. (Bustle reached out to the show's agent for more info, but we have yet to hear back.)
He didn't reveal much else — not even if it was going to be a straight scripted order or which network it would be with — and it's sent my brain into overdrive. I have a lot of questions. How's it going to work? Will celebrity fan Daisy Ridley actually get her wish and play The Duchess? And are James, Jamie, and Alice going to be in it?
It's crazy to think that a shared joke between friends has come so far in just a few years. The Telegraph reported that earlier this February, the podcast had been downloaded 100 million times since launching in 2015. The addition of bonus, off-the-cuff content has also attracted big-name celebrities like Elijah Wood, Rachel Bloom, and Michael Sheen (all of whom have thrown their names in the hat for a potential film adaptation) and has even led the Porno trio to tour a live show internationally.
They also released a beautifully bound book titled My Dad Wrote a Porno: The Fully Annotated Edition of Rocky Flintstone's Belinda Blinked last year. It featured Rocky Flintstone's original text alongside a number of scribblings by Cooper, Morton, and Levine and promptly became a bestseller.
While there's no word on when we'll get to watch Belinda Blumenthal onscreen, you won't have to wait long to get your Porno fix: The podcast actually returned for its fourth series today. The episode is already available for download, but if you hang on until 8 p.m. Monday, then you'll be able to join Porno's global listening party.
There's no physical location for it; instead it's a Twitter-hosted event where Belinkers will all play the new episode at exactly the same time and chat using the hashtag #PornoDay. You can bet your buns I'm going to be participating — Belinda Blumenthal is my personal inspiration, and I never miss an opportunity to stan.