An Anthony Bourdain Biography Is Coming Out In 2019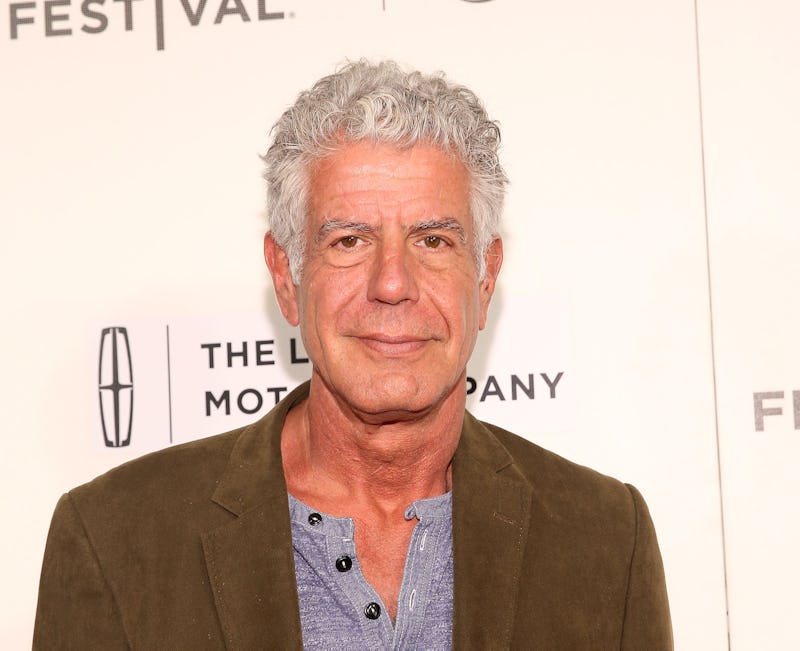 Robin Marchant/Getty Images Entertainment/Getty Images
In the wake of his tragic death, fans of Anthony Bourdain have turned to his many wonderful books as a way to remember the beloved celebrity chef, television host, and author. Now, readers will have one more title to reach for, because a new Anthony Bourdain biography will be published next year.
On Wednesday, Eater shared the news that readers can expect a new book about Bourdain in 2019. Paula Forbes, a cookbook author and former Eater editor, shared the exciting news with the world on Twitter, where she wrote that the biography will be "an authorized portrait of the writer, veteran chef and television traveler, built from stories shared by those who knew him best." According to her tweet, Bourdain will be published by Ecco in Fall 2019 and edited by Laurie Woolever.
"After working with and collaborating with Tony since 2004, I'm honored to now be working with his estate, and talking to the people who knew him best, in order to share the story of a life that influenced so many people, in so many ways, all across the globe," Woolever, Bourdain's longtime collaborator and assistant and the co-author of Appetites, told Eater about the new project.
When news first broke of Bourdain's death by suicide on June 8, fans from the food world and beyond were both shocked and saddened by the sudden loss. Bourdain was in France at the time, filming an episode of his Peabody award-winning show, Parts Unknown. In the wake of his passing, Bourdain's loved ones, colleagues, and fans shared moving tributes that honored a man many believe changed their lives.
Bourdain, who first rose to public notoriety with his memoir Kitchen Confidential: Adventures in the Culinary Underbelly, was not only a talented chef and a popular TV host, but a remarkable storyteller. He used used his passion for food and travel to educate and inspire millions of people all over the world. Throughout his career, the chef and author spoke openly about not only the restaurant industry and all of its flaws, but of his own personal life, including his struggles with mental health and addiction. Before his death, Bourdain even opened up about the #MeToo movement, what women face in the food industry, and how he could have been a better ally in the kitchen. He was a truly gifted chef, an incredible travel host, and an even more remarkable man the world will always miss.
Although he is gone, Bourdain left behind a wealth of not only TV show reruns, but books about his life, his travels, and his career. In Kitchen Confidential, Bourdain's first book, the author exposes the underbelly of the commercial kitchen and reveals what it was really like to work in such a demanding industry. Ten years later, in Medium Raw, Bourdain revisits the kitchen and tracks the way the food industry has changed over the years. Appetites, the cookbook he co-wrote with Bourdain editor Laurie Woolever, is full of the famous chef's home-cooking, home-entertaining-inspired recipes, so fans can not only read about his food adventures, but try and recreate some themselves.
If the upcoming authorized biography is anything like the chef's own books, Bourdain is sure to be equal parts entertaining, inspiring, and enlightening. A global traveller and a veteran chef who spent his life not just cooking and exploring for himself, but educating, advocating, and entertaining for the world, Bourdain was a truly remarkable man, so readers can only expect a book about his life will be, too.
Although there is no official publication date for this highly anticipated biography, fans can expect to see Bourdain on the shelves in the fall of 2019.