North Carolina's New Pro-Choice Bill May Fix Its Worst Abortion Restrictions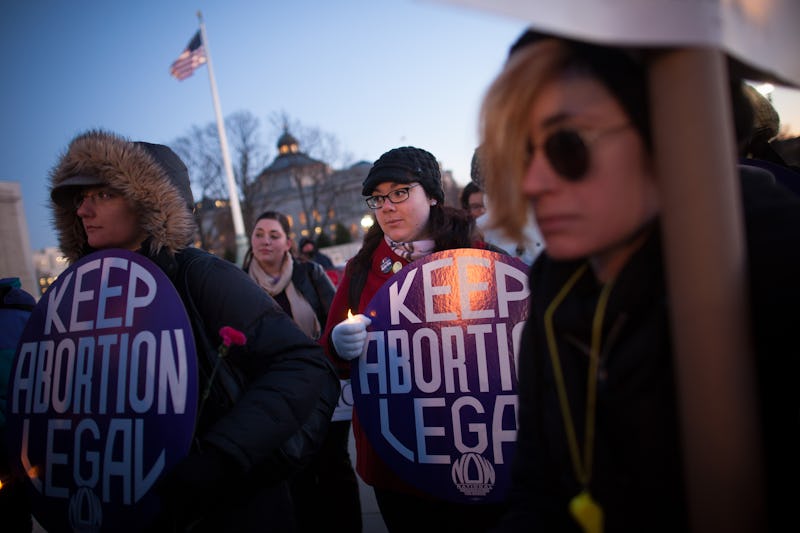 Allison Shelley/Getty Images News/Getty Images
In June of last year, the Supreme Court's Whole Women's Health v. Hellerstedt decision struck down Texas' House Bill 2 (HB 2). That legislation levied what reproductive rights advocates argued were burdensome restrictions on abortion providers, such as mandating that clinics to meet standards of surgical centers and that providers have admitting privileges at a hospital within 30 miles of the clinic. The Supreme Court agreed with those advocates, ruling that state laws putting medically unnecessary regulations on abortion providers were unconstitutional if the state could not give evidence for why the laws were medically necessary.
However, the Supreme Court ruling has not rectified all of problems created by Texas HB 2 and similar state laws targeting abortion providers (also known as TRAP laws). Many laws targeting abortion providers are still on the books while activists fight them in court.
That's why on Tuesday in North Carolina, several Democrats in the state legislature joined with progressive activists to put forward the Whole Woman's Health Act, which takes aim at several laws in North Carolina that restrict abortion providers' ability to function, similar to the laws that were struck down in Texas.
Susan Fisher, a Democratic representative and a primary sponsor of the bill, said in a statement:
In recent years, North Carolinians have seen an unprecedented number of laws passed that act only as medically unnecessary hurdles a woman must clear in order to access her constitutional right to safe, legal abortion. Today, we take the first step in passing legislation to guarantee that a woman who has made the deeply personal decision to end a pregnancy can access safe, respectful care without political interference.
In 2015, North Carolina passed some of the most restrictive abortion laws in the country, including: a mandatory 72-hour waiting period (longer than all but six other states), and a requirement that ultrasounds of abortions be sent to the state Department of Health and Human Services, without requiring the patient's consent. The state already had a ban on abortions after 20 weeks, and that same year, it was amended to "to apply a more narrow definition of what is an emergency," according to The News & Observer.
North Carolina's legislature remains heavily Republican — and in February, a federal judge found the state had an unconstitutionally gerrymandered map. Thus, it's unlikely that the same representatives that passed those laws will pass this bill.
This is an opportunity to educate the entire state on where North Carolina is at as a state in terms of our abortion restrictions.
However, according to advocates, this bill can have important impact even if it isn't passed. The American Civil Liberties Union filed suit against North Carolina abortion restrictions a few months ago, and is hoping to use this bill to highlight the issue as it moves through the courts.
"[This is] a message that we want to continue to convey," Susanna Birdsong, Policy Counsel for the ACLU of North Carolina, tells Bustle. "It's important to have the bill introduced. It's important to have the record of that. It's important to build and support our legislative champions."
"We know that these attacks are not going to stop," says Sarah Eldred, Communications Manager for Planned Parenthood South Atlantic in North Carolina, about TRAP laws like the ones North Carolina.
This is an opportunity to educate the entire state on where North Carolina is at as a state in terms of our abortion restrictions. It really has been a huge shift for this state, which used to be a real beacon for progress, for reproductive rights in the South. It's a chance to educate constituents and everyone in the state, it's a chance to talk about restrictions and the real world impact they're having on patients. And it's a chance to create the world we want to live in. This is the first step toward doing that.
The fight in North Carolina highlights one of the most critical issues that the pro-choice movement has in the current political climate: Even after the Supreme Court gave abortion its biggest victory in decades last June, it takes time and effort for its ruling to filter down into state laws.
But in the mean time, pro-choice advocates are going to try to speed up the process.