A New Report Says Electric Scooter Injuries Are Rising, So Here's How To Use One Safely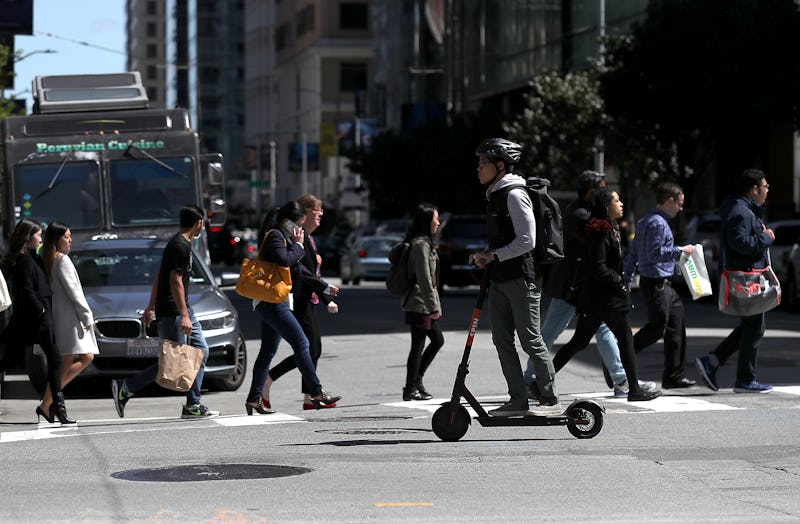 Justin Sullivan/Getty Images News/Getty Images
Electric scooters might not be the alternative means of transportation city-dwellers were hoping for. A new hospital emergency department report out of the University of Utah Health says people are getting really hurt on electric scooters, reflecting a growing trend of injuries across the country, The Washington Post reports. The University of Utah Health has seen a 161 percent increase in the number of emergency department visits involving electric scooters, says The Washington Post, after comparing its visit numbers with the same three-month period from last year. The hospital saw only eight electric scooter-related injuries in 2017 compared to 21 during the same four-month time period this year, Gizmodo reports.
"Most of the patients with these injuries specifically reported that they were riding an e-scooter or a rental scooter," Troy Madsen, emergency department doctor at the University of Utah Health, told The Washington Post. "Interestingly, more than 80 percent of the injuries this year happened between Aug. 15 and Sept. 15, which would correspond with the increasing popularity and availability of the e-scooters."
Madsen also notes that the people who came to the University of Utah Health Emergency Department with electric scooter-related injuries were reportedly between the ages of 20 and 50 years old, and most often sustained injuries trying to catch themselves in a fall. This year, nearly half of the injuries included fractures; ankle, wrist, elbow, and shoulder dislocations; sprains; lacerations; and some head injuries, Gizmodo reports.
Salt Lake City isn't alone in its sudden rash of e-scooter injuries. Back in March, San Francisco was reportedly overtaken by electric scooters almost overnight, Vox reports. The city just as quickly banned e-scooters by June, says Vox, in the aftermath of scooters piled up all across the city and a swath of injuries caused by riders zig-zagging through crowds, ignoring traffic rules, or riding on sidewalks. And, The Washington Post says, emergency physicians in a dozen cities around the United States told them they're seeing an uptick in severe injuries related to e-scooters, including head traumas.
"We're seeing these injuries daily, and at least once or twice a week we're seeing someone who needs an urgent surgery," Dr. Natasha Trentacosta, an orthopaedic surgeon at the Cedars-Sinai Kerlan-Jobe Institute who is working on an epidemiological study of electric scooter-related injuries, told the Cedars-Sinai blog. "These can be life-changing injuries, and they can often be prevented."
According to Vox, there's a learning curve to using e-scooters because the motor can accelerate faster than the rider expects, and the momentum individual riders generate can take an effort to slow the scooter down. There are also environmental safety factors, says Vox, like how the scooter's tiny wheels can get stuck in uneven sidewalks and grates, and damp weather can weaken the tire tread. But The Washington Post says safety experts have reportedly raised concerns about how well some of rental e-scooters are being maintained, saying some e-scooter companies have reportedly posted ads for mechanics on Craiglist allegedly stating that mechanic experience is not necessary.
As more and more cities decide whether to allow electric scooters rental companies to take up shop on their streets, people can protect themselves with basic safety tips. "Helmets are recommended for use of the e-scooters, and I would reinforce this after seeing some of the cases of head injuries that we've treated in our emergency department," Madsen told The Washington Post. When in doubt, find another mode of transport.