A Shooting At An Indiana Middle School Has Reportedly Injured At Least 2 People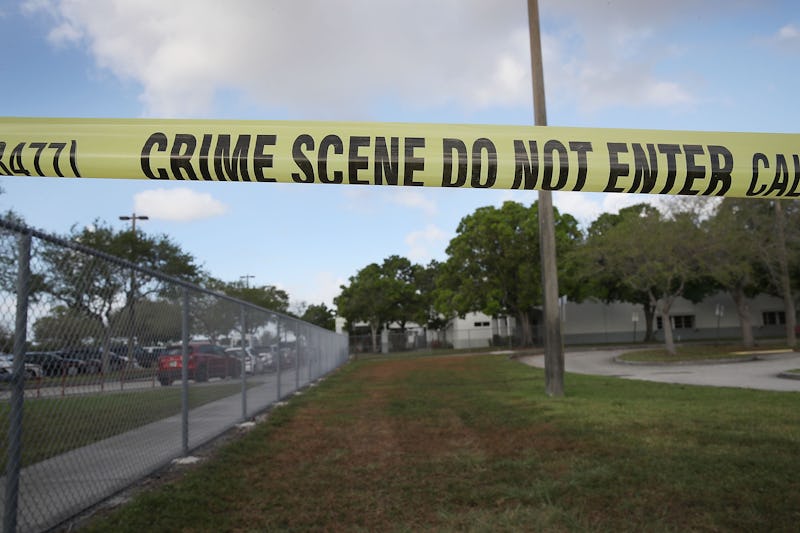 Joe Raedle/Getty Images News/Getty Images
One week after a shooting at a Santa Fe high school left eight students and two teachers dead, another school shooting has been reported in Noblesville, Indiana. An attacker opened fire in the morning at the city's Noblesville West Middle School and was taken into police custody by 9 a.m. Early reports indicated that two people injured in the shooting were sent to the hospital.
The victims were a student and teacher who were being treated at separate hospitals and whose conditions were not immediately released. Riverview Health reported that a third student was being treated at its facility for a broken ankle.
A school receptionist told CNN shortly after the event that the school was on lockdown. Many students were evacuated on buses and sent to nearby Noblesville High School, which was also on lockdown, to be picked up by their families there. According to WTHR, all lockdowns had been lifted by 10:30 a.m local time.
Noblesville is about 25 miles outside the state capital of Indianapolis. Noblesville West is one of two middle schools in the district and serves 1,354 students. The shooting occurred one week before its school year was set to end on June 1.
Eyewitness accounts suggest that a science teacher may have saved lives by helping to apprehend the shooter. "I literally just spoke with a seventh grader who was in the room where this happened," news anchor Dan Spehler told CBS4 on Friday morning. "She confirmed what I heard from another person who lives nearby that this was in a science classroom and that a science teacher may have been the one to literally tackle this kid and swat the gun away from him." It is unclear whether that teacher is the one being treated for injuries at the hospital.
Gov. Eric Holcomb responded to the attack on Twitter on Friday. Along with other state officials, he said that he is "monitoring the situation at Noblesville West MS on plane to Indy from Europe." He added that the police "are working with local responders [and] will offer all assistance needed. Our thoughts are with all those affected by this horrible situation."
Conversations about school safety reopened in Noblesville after February's high-profile shooting in Parkland, Florida. A group of families and other concerned community members has recently been advocating that the district invest in an expensive Net Talon security system that has been called the "safest in America." The system has only been employed by one other school, also in Indiana. The district's safety team is reviewing the suggestion.
District officials have reassured parents that all school staff members are trained to use the ALICE procedure (Alert, Lockdown, Inform, Counter, and Evacuate) in the case of an emergency. Noblesville schools regularly practice lockdown drills. According to IndyStar, the district also employs four armed police officers who stand guard in some of its 10 schools. The city's police chief has said that he hopes to eventually station an officer in each school.
Parkland survivors responded to the Noblesville shooting on social media on Friday. "I am so sorry," wrote Marjory Stoneman Douglas student Carly Novell, addressing her peers in Indiana. "You are too young. We all are."
Many Noblesville students participated in the March 14 National Walkout Day to protest gun violence, while others marked the occasion with a school-sponsored alternative event. One high school student, Delaney Amsler, created a 60-foot long banner featuring the names of every school shooting victim since 1840. Her project hung up in the hallway during the day of protest.
"I want awareness to spark action," Amsler told CBS4. "I want people to see what this cause has done and what America has done." Perhaps this latest act of violence in Noblesville will help incite state lawmakers to enact meaningful gun reform legislation. Indiana's gun laws are currently fairly lax. Gov. Holcomb, who wrote the statement on Twitter about Noblesville, is a member of the NRA.