The First Pic Of Carrie Underwood After Her Facial Injury Has Fans Excited For Her Return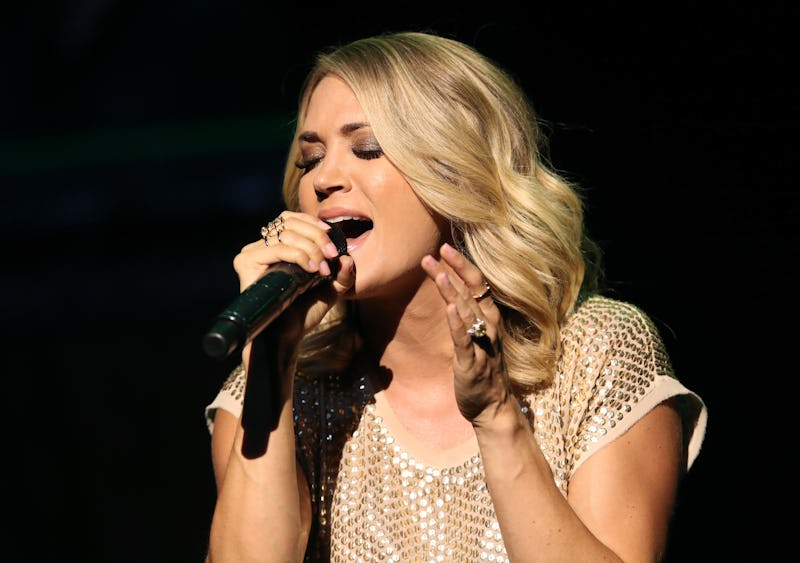 Christopher Polk/Getty Images Entertainment/Getty Images
Shortly after sending out an update to fans about her November 10 accident, a photo of Carrie Underwood post-injury surfaced yesterday — and it seems like she's doing great. The pint-sized country singer took a nasty spill at her Nashville home a few months back, and sustained a wound to her face that required between 40 and 50 stitches. Since then, Underwood has been keeping a low profile and hadn't been photographed in public since the accident occurred. Below Deck star Adrienne Gang recently ran into Underwood while working out at the gym, though, and the singer posed shyly for a picture with the Bravo reality star.
The photo of Gang and Underwood was actually shared way back in December, but drew more attention after Underwood sent the following update to her fan club yesterday (according to a source at People with access to the club):
In addition to breaking my wrist, I somehow managed to injure my face as well. I'll spare you the gruesome details, but when I came out of surgery the night of my fall, the doctor told [Underwood's husband] Mike that he had put between 40 and 50 stitches in. Now, here we are 7 weeks later, and even though I've had the best people helping me, I'm still healing and not quite looking the same.
"I honestly don't know how things are going to end up but I do know this: I am grateful," she continued. "I am grateful that it wasn't much, much worse. And I am grateful for the people in my life that have been there every step of the way." At the end of her intimate letter, Underwood wrote: "I am determined to make 2018 amazing and I want to share things with you [the fans] along the way. And when I am ready to get in front of a camera, I want you all to understand why I might look a bit different."
Fans were quick to send Underwood well-wishes after the update went out, and assured the country singer that they love her for who she is, not what she looks like. But just in case Underwood had any doubts about how her fans would feel when they actually saw her face for the first time, the steady stream of supportive comments on Gang's photo should squash all those doubts pretty quickly.
When approached via Twitter for a comment on Underwood's post-surgery, in-person appearance, Gang had nothing but nice things to say. She told E! News that Underwood looked "amazing," and she had "no idea she was injured!" A reporter from Huffington Post even went so far as to ask Gang if Underwood was "wearing heavy makeup or anything that might have covered up scarring," to which Gang replied, "Not that I noticed! She looked great!"
Of course, Gang was just re-confirming what most fans already assumed. Before she warned her fan club about her potentially altered appearance, Underwood posted a selfie on Instagram, and it was pretty darn adorable. The singer bundled up in a cozy, wrap-around, chunky scarf, and even though the winter accessory covered up the majority of her face, Underwood's bright green eyes shone through, looking lovely as ever.
"It's crazy how a freak random accident can change your life," she wrote in the letter to her fan club. But despite any insecurities Underwood might have about re-emerging in public after her accident, it's undoubtedly clear that her fans will always have her back.