NYC Is Getting A Physical Amazon Bookstore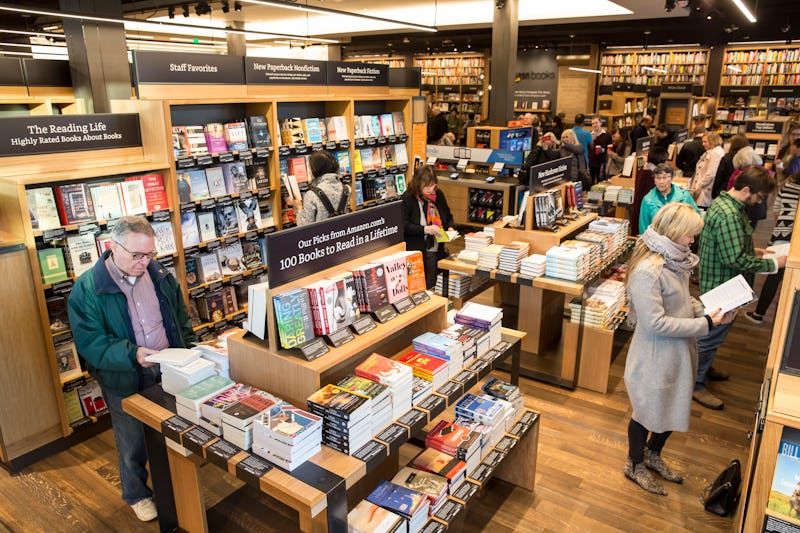 Stephen Brashear/Getty Images News/Getty Images
Remember when Amazon was revolutionary for not being a physical bookstore? Yeah, those days are gone. Retro is officially in, and Amazon's physical bookstores are taking over the U.S. The company already owns three stores in Seattle, Portland, and San Diego — and now they're coming to the Big Apple. Amazon is opening a bookstore in New York.
One of the most appealing things about Amazon has always been their super-low prices — but while shopping from the comfort of your own bedroom is convenient, book-lovers are bound to miss the joy of turning physical copies over in your hands while you decide what to buy. The physical Amazon bookstores include all of Amazon's best features — such as customer ratings and reviews — with the bonus of that glorious new-book smell added on top. Dreamy. And as Amazon has just revealed their first futuristic pay-as-you-go Amazon Go store (with no lines!), I wouldn't be surprised if these bookstores start heading in the same direction.
The new Amazon bookstore will open in Manhattan, in the Time Warner Center on 59th Street. That's perfectly placed to grab a new novel and then go read it in Central Park on your lunch break — does it get any better than that? And of course, the mega-company isn't finished yet: new Amazon stores have been planned for Chicago and Massachusetts. Before long, there'll be one in every city — and perhaps online book-shopping will become a thing of the past.