A Hospital Made A Playlist Of Songs To Help You Do CPR & It's Literally Just 47 Bangers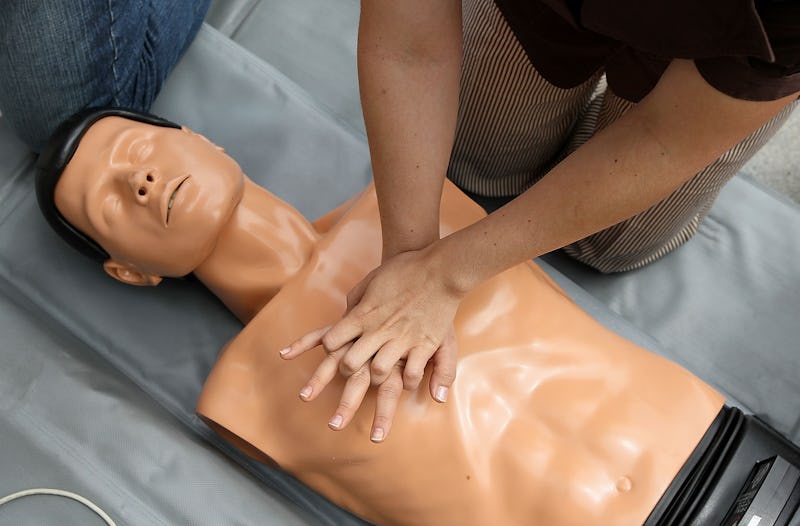 Justin Sullivan/Getty Images News/Getty Images
It turns out some of your favorite songs might actually help you save a life one day. A hospital made this cool Spotify playlist of songs that can help you do CPR, Mashable reports, and the internet can't get enough of these life-saving beats. How does that even work? Well, all the songs are at the same tempo required to do chest compressions, says Mashable, so if you can remember the beat of that song, you've got the first step to keeping someone alive until help can get there. (That tempo is 100-120 beats per minute, for what it's worth.)
According to BuzzFeed News, whose reporter Julia Reinstein first tweeted the now-viral screenshot of the playlist, the CPR-friendly music was compiled by New York-Presbyterian Hospital, and it's full of 47 tracks you'd actually want to listen to, such as Justin Timberlake's "Rock Your Body," The All-American Reject's "Gives You Hell," and Lady Gaga's "Just Dance." And, of course, there are some throwbacks like the Bee Jee's "Stayin' Alive," which has been used in multiple CPR videos over the years, such as ones featuring actors Kim Jeong and Vinnie Jones. ("Ah, ah, ah, ah, stayin' alive, stayin' alive" is commonly used as a mnemonic device to remember the rhythm at which to perform chest compressions.)
Even All-American Rejects lead singer Tyson Ritter was super into having the band's song on a playlist that could potentially save a life, retweeting Reinstein with the comment, "When a diss track turns into a life-saving track." The playlist has wracked up 60,000 followers in just a few days.
According to BuzzFeed, CPR involves giving chest compressions to someone who's having a medical emergency, such as someone who's going into cardiac arrest, who's near-drowning, or who's suffocating. CPR helps a person maintain blood flow to the brain and other vital organs until the heart is shocked back into normal rhythm by emergency medical responders or an automatic defibrillator (AED), BuzzFeed reports.
The description on the Spotify playlist says, "All of these songs are 100 BPM (beats per minute) — the right beat to perform CPR. Pick one to remember in case you ever need to save a life." According to the American Heart Association (AHA), 100 to 120 beats per minute at a depth of two inches is exactly what's recommended for conventional chest compressions on an average adult. The AHA says if someone is having a medical emergency, first call 911, then push hard and fast in the center of their chest until medical responders can arrive.
So if you ever find yourself having to do chest compressions but aren't quite sure what to do, try to remember one of your favorite songs from the playlist. The beat to the song is the how fast you should do the chest compressions. It's hard not to panic in that kind of situation, but take a deep breath and channel your favorite musician. Are you a Beyoncé stan? Close your eyes for a brief moment and let "Crazy In Love" flow through you.
Whatever you do, don't do nothing. According to the AHA, doing CPR immediately after someone goes into cardiac arrest can double or triple a person's chance of survival. Call 911, then start administering compressions. Even if you're not certified, says VeryWell Health, you don't have to do CPR perfectly in order for it to potentially save someone's life. With a great track playing in your head, you got this.