A Portland Lawmaker Believes Republicans Need Militia Protection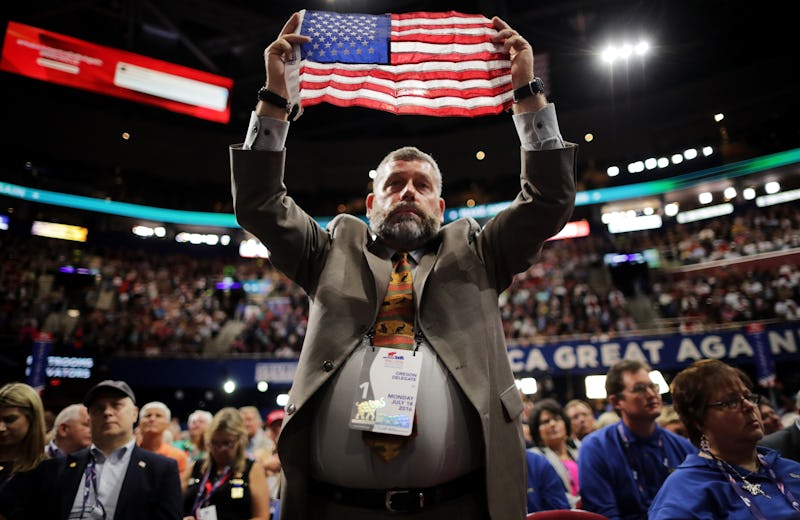 Chip Somodevilla/Getty Images News/Getty Images
In the wake of the fatal stabbing in Portland last week, the city came together in a peaceful vigil to honor the two men who were killed in the attack. But one Republican official had a different response in mind — focusing on the violent nature of the incident, he suggested hiring militia organizations to protect GOP members at public events.
Rather than "abandoning the public square," James Buchal, the Multnomah County GOP chair, said Oregon Republicans should consider alternative measures. "I am sort of evolving to the point where I think that it is appropriate for Republicans to continue to go out there," he said in an interview with The Guardian. "And if they need to have a security force protecting them, that's an appropriate thing too."
When asked whether this meant GOP members should make their own arrangements for security, Buchal responded, "Yeah. And there are these people arising, like the Oath Keepers and the Three Percenters." He agreed he had those groups in mind to act as protection:
We're thinking about that. Because there are now belligerent, unstable people who are convinced that Republicans are like Nazis.
The Southern Poverty Law Center, which tracks extremist groups, says that the Oath Keepers are "one of the largest radical antigovernment groups in the U.S. today." The Three Percenters are, according to the Political Research Associates, a "Patriot movement paramilitary group that pledges armed resistance against attempts to restrict private gun ownership."
It was unclear what kind of supposed threat Buchal was responding to, since rallies related to the stabbing incident have been peaceful. On Saturday, about 1000 people gathered for a vigil in Portland honoring 23-year-old Taliesin Myrddin Namkai-Meche and 53-year-old Rick Best, the two stabbing victims. At the vigil, people held signs that read "Love" and lit candles.
Jeremy Joseph Christian, the man police suspect committed the killings, may have been a white supremacist and attended an alt-right rally in Portland.
According to a witness account in The Oregonian, a belligerent man boarded a Portland MAX train acting strangely. "He was screaming that he was a taxpayer, that colored people were ruining the city, and he had First Amendment rights," Portland resident Rachel Macy told The Oregonian. The man, later identified as Christian, then began screaming anti-Muslim slurs. Best and Namkai-Meche, along with another man who survived, tried to de-escalate the situation, asking Christian to get off the train. Christian then turned violent.
Bustle has reached out to Buchal's office for clarifications of his comments to The Guardian. Neither Buchal's personal Twitter account nor the Multnomah GOP Twitter account has commemorated the deaths of Best and Namkai-Meche deaths, though both have tweeted in the days since. The Multnomah County GOP account did call Christian a "Bernie supporter" in response to another tweet which blamed the far-right for the incident.
Dubious claims about Christian's political affiliation aside, the tragic deaths of Best and Namkai-Meche, and how politicians like Buchal have responded to it, are an indicator of just how terribly divided American politics are today.