This 'La La Land' Promposal Is Perfect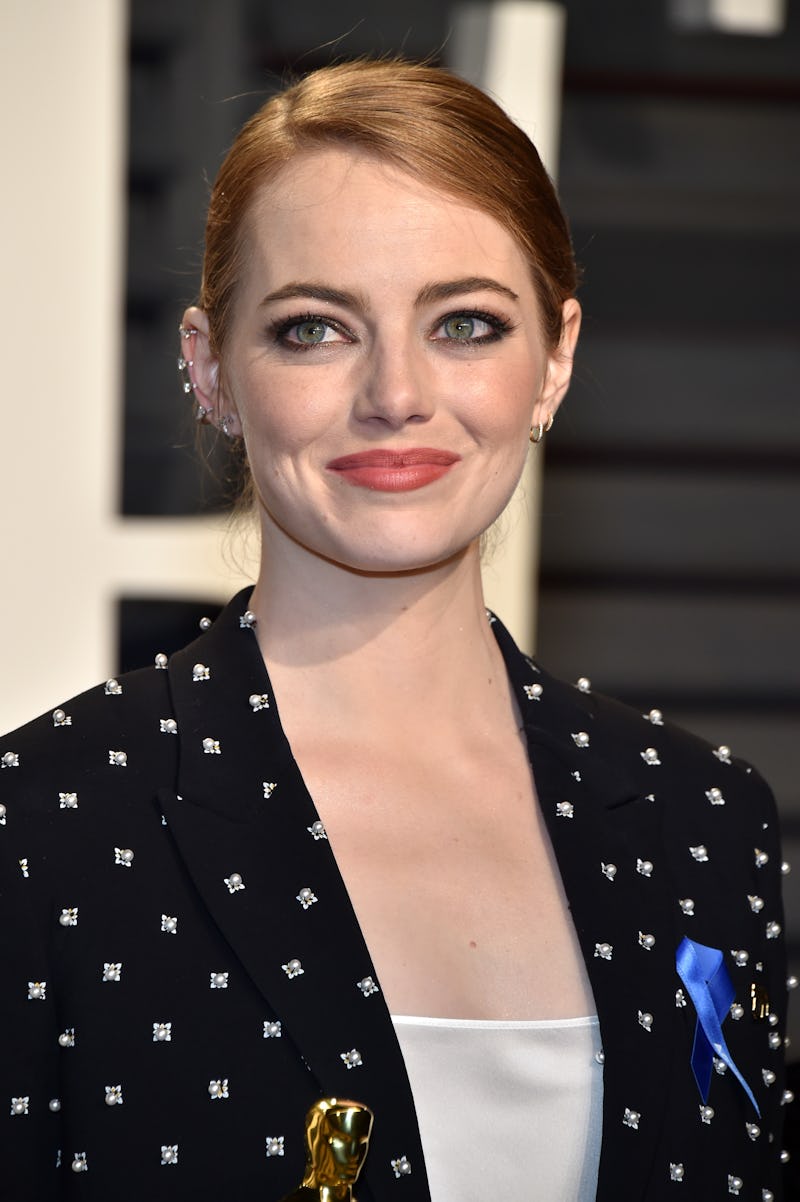 Pascal Le Segretain/Getty Images Entertainment/Getty Images
It's that time of the year again, everyone: Prom season. Even if you're long out of high school (like me), it's still highly entertaining to see different promposals from all over the country go viral, and this one is directed at a certain recent Oscar winner. A Ryan Gosling lookalike teenager asked Emma Stone to prom in a seriously creative rendition of La La Land's opening scene, and the result is a video that's way too cute for Stone to say anything but yes to his invite.
UPDATE: Stone has responded to Staudenmaier's video. Staudenmaier read the following message from the actor on Good Morning America: "JACOB, thanks for making the greatest proposal I have ever received. I can't tell you what an honor that was and how much I smiled through that entire beautifully orchestrated video. I'm in London working, but I hope you have the best time at prom, and I'm grateful you thought of me. THANK YOU. P.S. I do see Gosling around the eyes. Love, Emma."
EARLIER: In the video, a student from Arcadia High School in Phoenix named Jacob Staudenmaier and his friends created a very elaborate version of the "Another Day of Sun" scene, where he changed the words to make them fit his very important question for Stone. Although he admitted in his song that his voice isn't very good and he doesn't think he looks that much like Gosling, his proposition is sincere... and really well done.
It starts out with tons of cars parked outside what looks like his school — just like the traffic in the movie — and then, Staudenmaier gets out of his car, dressed in a tux, and begins his song.
I graduated high school before fancy promposals became a thing, but if I was a senior right now, I'd totally say yes to anyone who asked me to be their date with this video. I can't even imagine the amount of time it must have taken for him to put this together, from the lyrics to the filming to even getting that many of his classmates to participate. It's insane!
Now, the video has more than 37,000 likes, but when it was just starting to go viral, Staudenmaier talked to USA Today about the video. Since he's super into filmmaking, this kind of project wasn't that much of a stretch for him.
He said:
"It started with the kind of crazy idea of saying, 'Yeah, maybe I'll go with Emma Stone to the prom'. I decided if I was going to do this, I really needed to do it big. . . I haven't heard anything specifically from her. I've heard a rumor and sort of a confirmed truth that her mom has seen it. I assume at some point it will get to her. I guess I'll just have to handle it on the fly. Just roll with it and go with the flow."
My fingers are crossed that everything works out for him. And if it doesn't? He's got a really good video to prove his filmmaking chops in the future if he decides he wants to pursue this as a career in the future. I'm so jealous of his skills.
Stone, like he sings in the video, prom is at the end of the month, so you don't have a lot of time to decide. But if it was up to me, she'd totally go with him. This video is so perfect.