92 People Are Sick From A Salmonella Outbreak Linked To Raw Chicken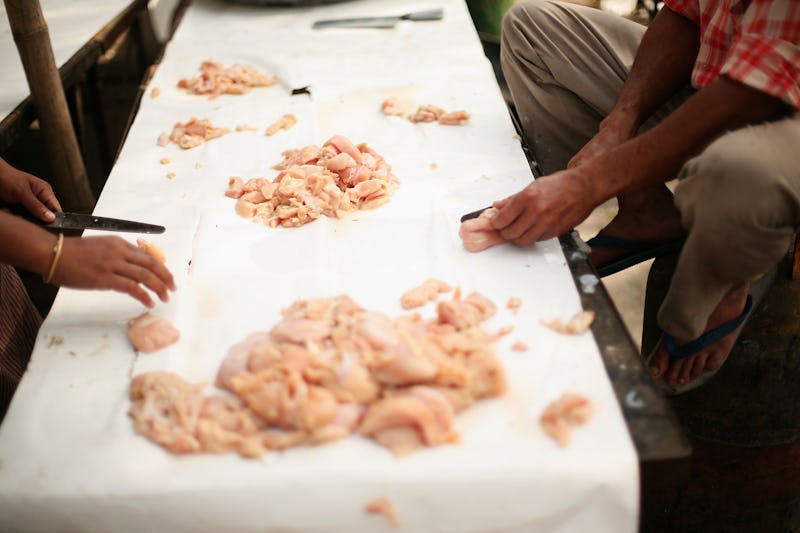 Mark Kolbe/Getty Images News/Getty Images
The Centers for Disease Control (CDC) reported on Oct. 17 that a salmonella outbreak linked to chicken has gotten 92 people in 29 states sick. Twenty-one people have been hospitalized, but no deaths have been reported. The CDC states that, according to recent lab results, chicken products from variety of sources — such as pet foods, ground chicken, chicken pieces, and whole chickens — tested positive for salmonella contamination. Salmonella bacteria have also been found in live chickens, the CDC says.
CNN reports that the source of the salmonella outbreak is still unclear, and investigators warn that no single common supplier has been identified yet. The CDC report states that this outbreak strain is resistant to multiple kinds of antibiotics, and it appears to be widespread in the chicken industry. People reports that those individuals sickened by the salmonella outbreak "reported eating different types and brands of chicken products purchased from many different locations … The outbreak strain has been identified in samples taken from raw chicken pet food, raw chicken products, and live chickens." CNN further reports that the U.S. Department of Agriculture's Food Safety and Inspection Service (USDA-FSIS) is tracking the salmonella outbreak, while the CDC's investigation is ongoing.
Salmonella cases have been reported in Alabama, California, Connecticut, Delaware, Florida, Georgia, Hawaii, Illinois, Indiana, Kentucky, Louisiana, Maine, Maryland, Massachusetts, Michigan, Minnesota, Missouri, Nebraska, New Jersey, New York, North Carolina, Ohio, Pennsylvania, Rhode Island, South Carolina, Tennessee, Texas, Virginia, and Washington, according to CNN. The CDC further states that steps are being taken to reduce salmonella contamination while tracing the source of the current outbreak.
According to the Mayo Clinic, salmonella is a common bacterial intestinal illness. Symptoms include diarrhea, abdominal cramps, and fever, and typically set in about 72 hours after exposure via contaminated food or water. Often, people with salmonella infection have no symptoms at all, the Mayo Clinic further notes, and healthy people usually recover within a few days without medical treatment. For those with weaker immune systems, however, like infants, young children, the elderly, and people with suppressed immunity from other illnesses, complications can occur. Salmonella can be life-threatening if the infection spreads outside of the intestines, and severe dehydration sometimes requires medical intervention.
It's important to keep in mind that bacterial contamination can happen whenever you handle poultry, the CDC says, so make sure to wash your hands well whenever you come into contact with raw meat of any kind. Further recommended precautions include cooking chicken to an internal temperature of 165 degrees Fahrenheit to kill harmful bacteria. Leftovers should also be reheated to an internal temperature of 165 degrees Fahrenheit. It's also recommended that you don't wash chicken before you cook it, as bacteria can splash onto the surrounding surfaces. It's also a good idea to use a separate cutting board for preparing meats, as is carefully cleaning all surfaces that have come into contact with raw meat products.
The CDC also advises against feeding dogs and cats raw chicken, as bacteria and germs in the food can make you and your pets sick. If you do add meat products to your pets' food, make sure they are cooked well before feeding. Consumers will be updated as soon as the source of the current salmonella outbreak has been identified.