There's A School Shooting In Santa Fe & Authorities Say At Least 8 People Have Died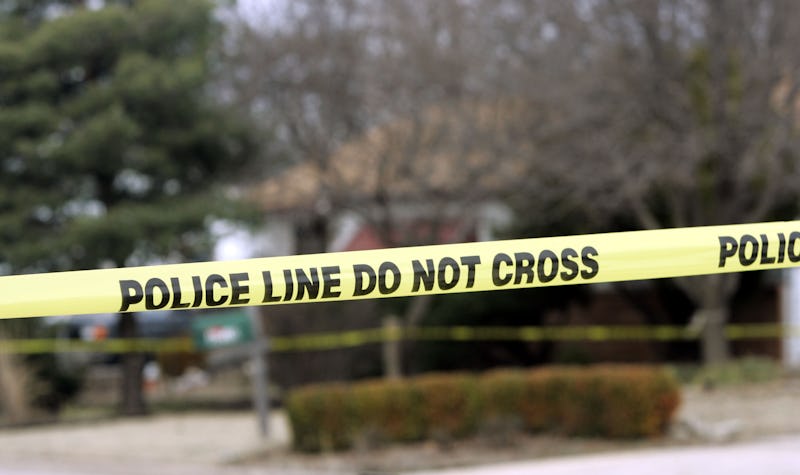 Larry W. Smith/Getty Images News/Getty Images
A school shooting took place outside Houston, Texas, on Friday morning. According to the local sheriff, at least eight people have died in a shooting at Santa Fe High School, most of them students.
Local authorities received reports about a school shooting just before 8 a.m. local time in Santa Fe, Texas, CNN reported. Harris County Sheriff Ed Gonzalez said in the press conference that one suspect, who could be a student, is in police custody. Another person has been detained. "I'm told they're both students," Gonzalez said, according to local outlet KHOU. "One was identified as the suspect and another was detained, for what reason I don't know." The school district confirmed to CBS News that there were a number of people injured, but did not specify how many.
One 10th-grader told ABC News that the fire alarm had went off, and everyone ran outside. "[A]nd next thing you know, everybody looks, and you hear boom, boom, boom, and I just ran as fast as I could to the nearest floor so I could hide, and I called my mom," the student said.
A senior at the school also told KHOU that one of his friends saw "some kid" with a gun.
There had been a graduation ceremony for the Class of 2018 scheduled for Saturday at the school's auditorium, CNN reported. One student told KHOU that they were "worried about everyone else," adding, "I don't even want to go to graduation now."
President Trump responded to the Santa Fe shooting, tweeting, "School shooting in Texas. Early reports not looking good. God bless all!" At an unrelated event at the White House on Friday morning, he spoke of the shooting, saying that his administration would strive to protect students, secure schools, and "keep weapons out of the hands of those who pose a threat to themselves and to others."
He said:
I have to begin by expressing our sadness and heartbreak over the deadly shooting at Santa Fe High School in Texas, just took place moments ago. We're closely monitoring the situation, and federal authorities are coordinating with local officials. This has been going on too long in our country. Too many years, too many decades now, we grieve for the terrible loss of life and send our support and love to everyone affected by this absolutely horrific attack to the students, families, teachers, and personnel at Santa Fe High. We're with you in this tragic hour and we will be with you forever. My administration is determined to do everything in our power to protect our students, secure our schools, and to keep weapons out of the hands of those who pose a threat to themselves and to others. Everyone must work together at every level of government to keep our children safe. May God heal the injured and may God comfort the wounded and may God be with the victims and with the victims' families. Very sad day.
First Lady Melania Trump also tweeted about the shooting: "My heart goes out to Santa Fe and all of Texas today."
The Santa Fe shooting is the 22nd school shooting this year so far. Since the Feb. 14 shooting at Marjory Stoneman Douglas High School in Parkland, Florida, there have been 13 school shootings, according to CNN — including the one in Santa Fe on Friday.
Parkland students, who have gained national recognition since the shooting for their advocacy efforts on gun control legislation, have expressed their sorrow and support for the Santa Fe High students. As they grapple with the shock and loss that so many students affected by school shootings have already had to do this year, one student told a reporter that there was no part of her that felt like it wouldn't happen in her school.
"It's been happening everywhere," the Santa Fe student said. "I've always felt it would eventually happen here, too."