The Govt Wants To Teach Students How To Help Save Each Other During A School Shooting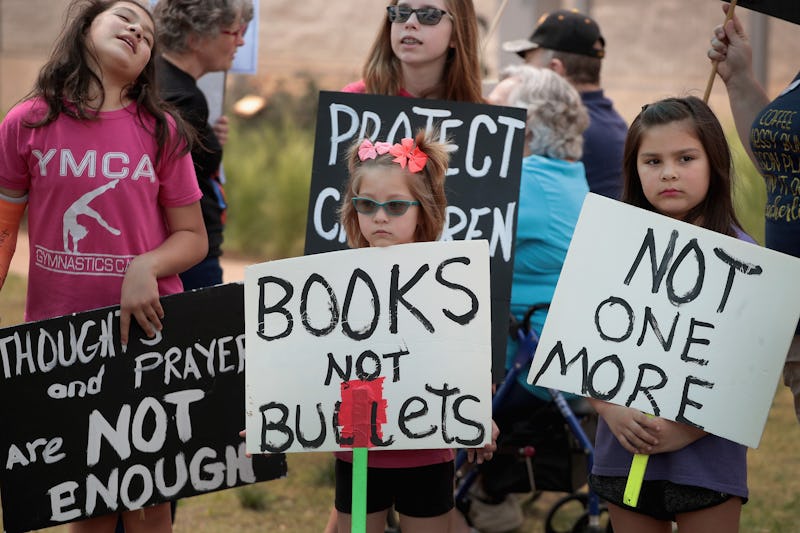 Scott Olson/Getty Images News/Getty Images
As mass shootings continue to happen at an alarming rate, the Department of Homeland Security has decided that it's time students learn some basic life-saving mechanisms. According to a grant opportunity posted on grants.gov, the government wants students to learn bleeding-control methods that it says could save lives in the event of a mass casualty event.
The program, currently titled School-Age Trauma Training (SATT) will "address trauma training for the high school-age communities" and "is intended to establish a long-term, self-sustaining mechanism... to deliver free to the public, lifesaving trauma training to high school age students for mass casualty events."
"Uncontrolled bleeding is the number one cause of preventable death from trauma," the grant notice reads. "This initiative is designed to enhance a bystander's ability to take decisive, lifesaving action to assist victims with traumatic injuries."
Once a proposal for such a program is selected, development could take up to 36 months, John Verrico, a spokesman for the Science and Technology Directorate, told The New York Times. Verrico also said that the program would be intended to assist during natural disasters.
Some schools will not have to wait three or more years to be equipped with some type of bleeding-control program, however. Several states are already beginning the implementation process internally. Georgia has backed a "Stop the Bleed" program that is on track to deliver bleeding-control kits to schools in three different counties, according to Valdosta Daily Times.
The Georgia kits contain a tourniquet, wound-packing materials, and gloves, the Valdosta Daily Times reports. The campaign's website contends "that bystanders, with little or no medical training, can become heroic lifesavers," and compares the program to CPR training. The campaign plans to train and equip all Georgia schools, according to the website.
Alabama is also among those states preparing schools for major medical emergencies. Through a grant from the Community Development Board, firefighters in Rainbow City, Alabama are beginning to install bleeding-control kits similar to those being issued in Georgia, according to EMS1, which reports on EMS-related news.
According to EMS1, the Alabama kits will include a tourniquet, gauze pads, a litter to carry an injured person, and a seal used to close a "sucking chest wound." The kits will reportedly include a seal that breaks upon opening so that teachers and administrators will be able to track whether or not they have been tampered with over time.
These types of classes are not strictly limited to schools. Stop the Bleed, an initiative run by the American College of Surgeons and the Hartford Consensus, also offers bleeding-control classes to communities around the country. According to reports from various local news outlets where Stop the Bleed is or will be operating, the campaign offers training and helps install bleeding-control kits around communities, available for public use should emergency strike.
Though the programs appear well-intentioned, some see the bleeding-control programs as a way to skirt implementing meaningful gun control measures. The prevalence of such programs suggests that authorities and school administrators are being forced to grapple with mass shootings as a relatively inevitable fact of life. With no movement on improved national gun control measures, authorities are left treating the symptoms of a complex, dangerous national problem.