A Student In Japan Is Suing After She Said Her School Forced Her To Dye Her Hair Black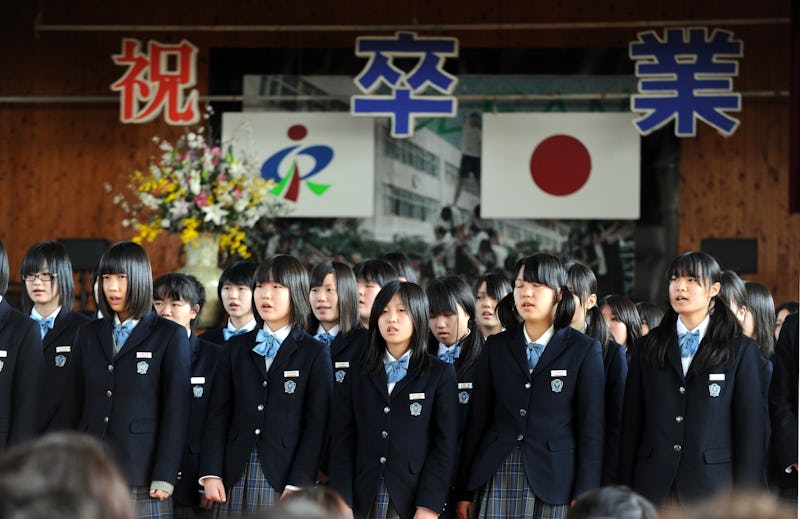 TOSHIFUMI KITAMURA/AFP/Getty Images
When you're in high school, any kind of self-expression can feel like a godsend — painting your nails, putting on makeup, or dyeing your hair are popular ones, even though your school might not always allow you to do so. In Japan, however, some schools are forcing students to dye their hair black — even if their natural hair is light. A Japanese student is suing her local government after her school forced her to dye her naturally brown hair black, she claimed. According to the BBC, the suit alleges that the student was subject to discrimination by the school administration, and was forced to routinely dye her hair whenever her roots started to show, to conform to aesthetic standards set by the school. According to Reuters, the 18-year-old student has not attended school since Sept. 2016, and is seeking damages of 2.2 million yen ($19,265) for psychological harm, as well as physical harm that was caused to her scalp due to the constant hair dye. The student was allegedly removed from the school's registry at one point, and prevented from joining her peers on a school trip, according to Quartz, which quoted media only available in Japanese.
The head of the school, which Reuters named as Kaifukan School in Habikino city in Osaka, Japan, Masahiko Takahashi, said that he was unable comment on the case to Reuters.
A report from the Japanese newspaper Asahi Shimbun showed that almost 60 percent of schools in Tokyo asked students with light-colored hair if their hair was "real." Many of these schools asked for proof in the form of baby photos or affidavits from parents. "Some students insist that their hair is natural even though it is dyed," one teacher in a Tokyo school told the newspaper. Kaifukan School's official policy is to ban dyed or bleached hair, according to the BBC, which is in line with similar policies at other schools, which may also ban permed hair. According to Quartz, these kinds of discipline-heavy policies can actually be a selling point between different schools as the amount of students enrolling declines along with the nation's birthrate.
The blog Yuta Aoki noted that this isn't exactly a new phenomenon in Japan. "Those who had naturally brown hair often got into trouble because teachers didn't think it was natural. My mum once got asked by a teacher because my brother's hair was just a little bit brown. I couldn't even tell the difference. In some cases, the school would tell students to dye their hair black," the writer wrote. "It wasn't dying hair that was forbidden. Not having black hair was."
Some folks in Japan are combatting these school policies, which as the blog above noted, have been in place since at least the late 1990s. "It's a clear violation of human rights to issue a certificate for the body," Naoki Ogi, a local activist and educational commentator told the Asahi newspaper, quoted in English in Quartz. "Adults should aim for an equal relationship [with students]." Though the student's case has just begun, it is already starting a conversation surrounding discrimination in Japanese high schools.
No matter the outcome of the case, it's clear that it's important to have an open discussion about one's right to bodily autonomy, even in a school environment that values discipline and a certain set of aesthetics. Even in the U.S., debates around students' rights to style their hair as they want, or wear what they want to prom, still face backlash from conservative school systems. It's a debate that isn't likely to go away anytime soon, in the U.S. or worldwide, but it's crucial to keep talking about it.